London Welsh hope for Premiership funding rethink
Last updated on .From the section Rugby Union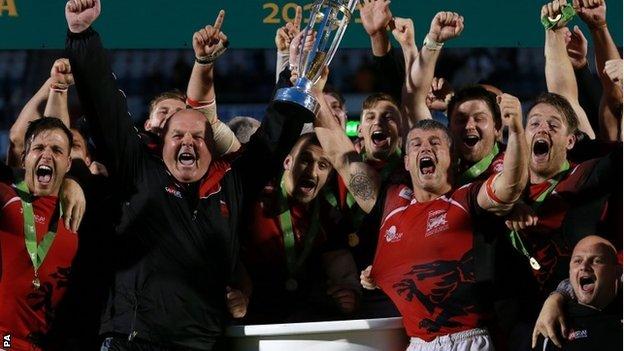 London Welsh are in talks with all Premiership clubs, some Championship teams and the Rugby Football Union to try to create a "level-playing field" next term over central funding worries.
The Exiles currently get in the region of £2m less than clubs who have been in the Premiership since its inception.
A club statement said they were sure of "our case for fair and equal funding".
Welsh, bottom of the Premiership after promotion last term, also have concerns over a lack of time between seasons.
The statement read: "We are convinced not only of the legal strengths of our case for fair and equal funding, but also of the moral and ethical arguments that underpin this.
"Also of significance is the lack of preparation time between the close of the Championship season (4 June this year) and the start of the Premiership (with pre-season friendlies in early August and training even earlier), which creates a huge constraint on player recruitment.
"A speedier and more reasonable approach is fundamental to a more meaningful and transparent top flight club rugby regime."
Welsh were promoted from the Championship last summer after a play-off final win over Bristol, but are yet to win a game in the Premiership this season.
"The primary issue currently under discussion is a core concern regarding the PRL's present (and indeed past) central funding arrangements, and whether the same are as equitable and just as they might be given the wide disparity between what established clubs receive and those clubs that are newly-promoted."