Cornish derbies vital to Launceston and Redruth finances
Last updated on .From the section English Rugby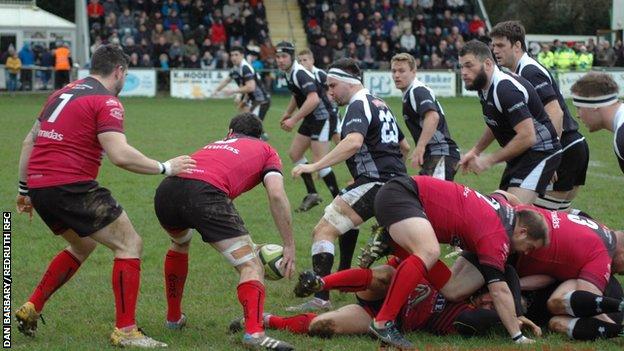 Launceston and Redruth derbies are vital for both clubs' finances, says Launceston boss Neil Bayliss.
The sides drew 15-15 at Polson Bridge on Saturday, with Kieron Lewitt's five penalties for the Cornish All Blacks responding to two Ben Priddey tries and another from Dan Rutter for Redruth.
"Today has proved how important it is that Redruth and Launceston stay in this league together," Bayliss said.
"We had 1,300 people come through the gates here, a massive crowd," he added.
Home dominance in Cornish derbies
Redruth have won just one league fixture at Launceston, in February 2013.
The Reds did win a cup match at Polson Bridge against a depleted Launceston side in 2004.
Launceston last won away at Redruth in January 2010.
"It's important for both clubs that we keep these fixtures going year after year because it's great revenue for the clubs," Bayliss told BBC Radio Cornwall.
The draw, which was only the second in any game in National Two South this season, sees Launceston stay in 11th place in the table, two places behind Redruth.
"I feel a bit deflated," Bayliss said of the result. "It was a war of attrition out there and 15-15 was a fair reflection of the game.
"I thought we lacked a bit in attack and credit to Redruth. They played their hearts out as we knew they would do, and they came at us.
"We had a few disruptions before the kick-off which didn't help anyone, but that's no excuse, and we shared the spoils at the end of the day."