Guernsey must be realistic about chances, says Jordan Reynolds
Last updated on .From the section Rugby Union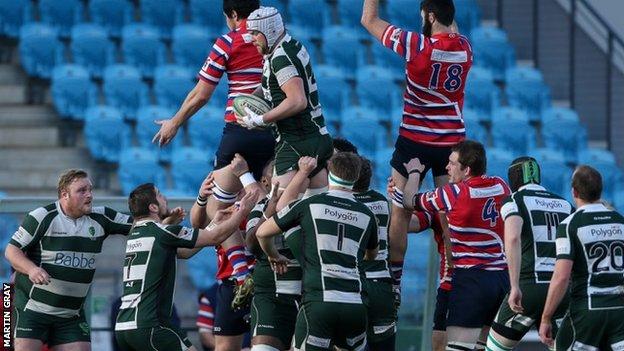 Guernsey head coach Jordan Reynolds says the team must be realistic heading into their final National Three London game of 2014 at East Grinstead.
Bottom-of-the-table Guernsey
East Grinstead are fourth and have won all seven of their home games.
"We've got to be realistic, we're confident going into this game, but we're not getting ahead of ourselves," Reynolds told BBC Radio Guernsey.
"Just because we've got one win it doesn't mean it's going to miraculously turn around for us."
Guernsey's unlucky run of injuries has continued with news that Tom Ceilam will be out until the end of March after fracturing his eye socket.
Scrum-half Malcolm Barnes will play after making his return from a shoulder injury last week.
Bottom of National Three London & South East

Position
Points
10

CS Rugby 1863

23

11

Amersham

19

12

Westcliff

18

13

Tring

18

14

Guernsey

13
"We've had a good result against East Grinstead the last three times we've played them, so hopefully we'll take a little bit of confidence from that," said Reynolds.
"Everyone's expecting miracles now we've won a game and everything's going to change, but they've got to be realistic.
"We're still trying to develop everything that we've been doing for the last four or five months and we're getting players back, but we've still got 14 guys that we're unable to play that would probably be in the first team.
"We do want to get a win, we do want to get a result out of this weekend, but we're not being unrealistic about how difficult it's going to be."