Premiership wage cap a 'good thing', says Richard Cockerill
Last updated on .From the section Rugby Union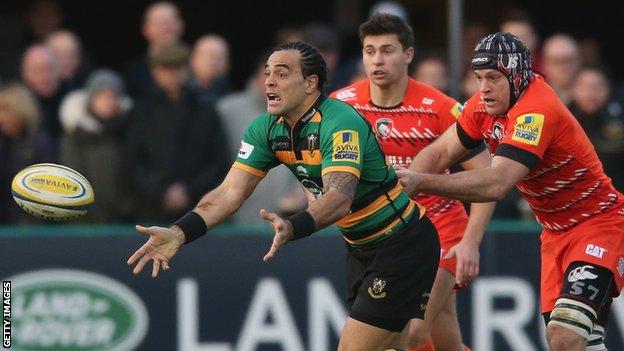 Leicester director of rugby Richard Cockerill has said the Premiership wage cap is a "good thing".
"The cap is there for a reason. It is a good thing because it keeps the league competitive," said Cockerill.
Sale Sharks director of rugby Steve Diamond had branded moves to abolish the cap "ridiculous".
Diamond added: "Clubs have to be sustainable and you have got to up your crowds."
Saracens chief executive Edward Griffiths had said that the salary cap had "served its purpose" - but Diamond disagreed.
"We went to Saracens, and they only had 7,000 people there. We lose money and we don't spend to the salary cap, so it seems crazy that anybody's promoting that at the moment."
The current restrictions are designed to encourage teams to produce young players and enhance English talent.
Griffiths had also claimed that Sarries' proposals had the backing of six other Premiership clubs but when asked if Sale were one of them, Diamond said: "Absolutely not. We are happy to work within the salary cap. We see it as a governor for the competition.
Mind the wage-cap gap
"The salary cap has ensured the Premiership has been a highly competitive competition, but with the cap rising year on year and the second marquee player allowance being introduced, the gap between the 'haves' and 'have-nots' has already started to widen.
"Saracens believe scrapping the cap will grow the game and create a level playing field in Europe, although supporters of, say, regional rugby in Wales may think the opposite."
BBC Radio 5 live's Chris Jones
"You can't just keep buying and buying and buying, you have to get your coaching right, your infrastructure right and spend up to the salary cap. Don't spend over it."
Speaking after his side's 23-19 defeat by Northampton, Cockerill added: "There is no point having two or three sides who can spend £15m, and the rest can spend £5 or £6m, because that is what makes the league uneven.
"We can only afford to spend what we've got. What we create, we spend. We are not in debt, and that is exactly how we want to stay."
Allan Robson, chief executive of Premiership champions and current leaders Northampton, admitted he was "surprised" by Saracens' stance.
"We hadn't been speaking to Saracens about it so they've got no knowledge of our position on it," he said.
"It's something that is always under review - it's such an important and crucial part of the set-up of Premier Rugby for all the reasons of fairness and equity and level playing fields and also financial sustainability."
Meanwhile, the Premiership refused to comment on reports in the Daily Mail that Saracens and Bath were being investigated for alleged breaches of the salary cap.
A spokesman said: "Premiership Rugby cannot comment on whether investigation proceedings are taking place or not. Any such investigation would be done under the salary capping regulations 2013-14."