Rugby World Cup 2015: RFU plans for coaching legacy
Last updated on .From the section Rugby Union
With England hosting the Rugby World Cup in just nine months' time, the Rugby Football Union is putting its final touches on a legacy master plan.
One person charged with helping the nation's rugby family prepare for the tournament's impact is John Lawn, who is head of game development at the RFU.
He can remember the almost immediate effect of the 2003 win.
"Rugby clubs up and down the country were inundated with children, parents, new players," Lawn told BBC London.
"It changed the game. It went from being quite a specialist, local sport to being something that just captured the nation's imagination."
For the 2015 tournament, Lawn has been heavily involved in the RFU's planning, with money being invested in all areas of the game's grassroots.
"Every element is important if more people come into the game," he said.
"[It includes] facility investment, social spaces for young people, pitch improvements, flood lights, in some cases rubber crumb pitches, investment in coaching and refereeing."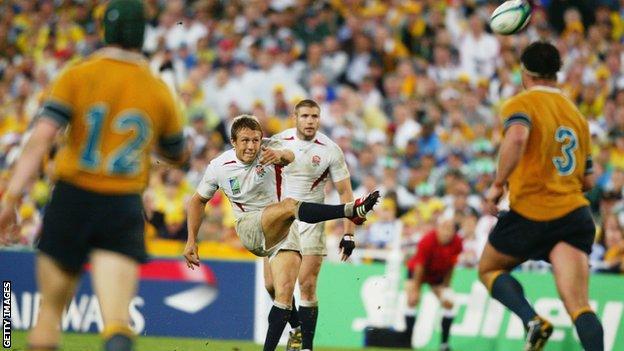 One target has been to increase the number of coaches, and in particular those who can coach the 15-a-side game at under-13 level and above.
After 2003, the 7-13 age group saw big increases in participation but as players became older they were harder to keep in the sport.
With 2,015 new coaches being trained in this area, Lawn knows the RFU needs to inspire this particular age group.
"That's an area where we have suffered some drop out of players," he said.
"We're hoping that by us supporting the coaches and them supporting us we can help those players stay in the game until they reach the adult levels and lifelong participation."
England captain Chris Robshaw's former school coach Jon Brimacombe has been supporting the campaign to encourage more coaches to the game.
He believes enjoyment is key to retaining players.
"The boys and girls need to want to turn up when they're at school and beyond school," Brimacombe told BBC London 94.9.
"The coach's main job is to encourage enjoyment of the game.
"It's not about the result. If you coach for results then you won't have the long-term enjoyment of the game."

Brimacombe coached Robshaw at Millfield School and smiles as he remembers a skinny 13-year-old with an oversized uniform, who actually played his first games of rugby union as a prop.
"If you'd have told me that boy was going to go on to play and captain England I wouldn't have believed you," he said.
"He was very committed and gifted, but you can never tell. His dedication, work ethic and sheer enthusiasm for the game were definitely there; he had that as a 13-year-old.
"If it was a wet, cold, muddy day he was the first out on the pitch and he was the last to leave. He just loved every minute of it and still does."