Delon Armitage appeals against 12-week ban for abusive language
Last updated on .From the section Rugby Union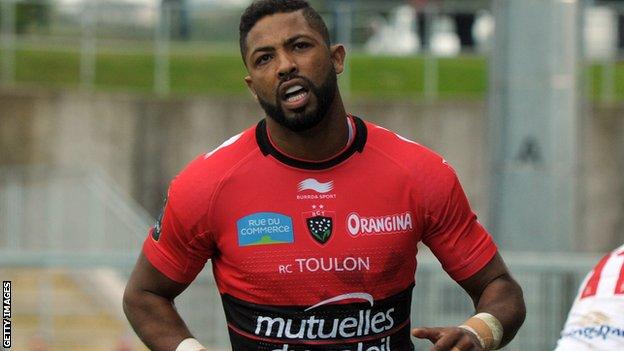 Former England international Delon Armitage has launched an appeal against his 12-week suspension for misconduct.
The Toulon player, 31, was found guilty of using abusive language towards Leicester fans after the European Rugby Champions Cup match on 7 December.
Armitage, who won the last of his 26 international caps in 2011, began his career with London Irish in 2003 before joining the French club in 2012.
His appeal will be heard in London on Thursday, 8 January.
Armitage's ban was increased from a starting point of eight weeks to 12 because it was his second post-match misconduct case in four years.
He pushed an anti-doping officer during a drugs test after playing for London Irish against Bath on 1 January 2011.
When it set the 12-week ban the disciplinary committee report said Armitage had an 'appalling' record both on and off the field.
"We considered the player's previous record and concluded that he is an habitual offender against the laws of the game, and one for whom there needs to be a deterrent to combat a clear pattern of offending, both on and off the field."
"The player is without doubt an exceptionally talented individual, but he has an appalling disciplinary record, both on and off the field."