Exeter Chiefs: Rob Baxter expects 'high-quality' signings in 2015
By Brent Pilnick
BBC Sport
Last updated on .From the section Rugby Union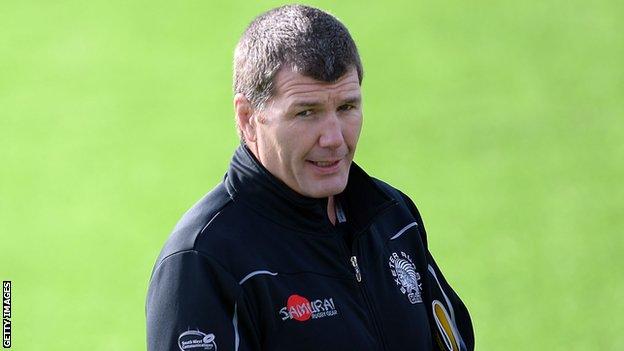 Exeter Chiefs are close to announcing some "high-quality" signings for next season, says head coach Rob Baxter.
and are staying with Exeter, who lie fourth in the Premiership.
Baxter and his coaching staff have also
"We have still got one or two players coming in of very high quality, which I think will be exciting, and we're very close to getting those finalised," Baxter told BBC Sport.
Exeter announced the signing of last January, while the addition of was made public a year earlier.
"We're getting to where we want to be," Baxter said.
"A huge part of this year's recruitment and re-signing has been about keeping our own players. We're well down the track of nailing most of that down, which is very important.
"You've seen the likes of Phil Dollman and Gareth Steenson commit and we are very far down the road on other guys as well, so although they're not all out there in the press, we've got an awful lot of players who are pretty much there or done who are out of contract, which is great news.
"I think over the next month or six weeks there'll be some announcements which will show where our squad's heading for next season."
And Baxter says his recruitment is not just focused on the squad which will begin the 2015-16 campaign, but also much further into the future.
He continued: "There are even circumstances where you're looking two or three years ahead, especially with the academy players we've got here.
"When we're looking at where we want to be recruiting next season and the season after, we've also got to build in where we feel our own academy players may fit into the squad."