Edinburgh: Al Dickinson hopes cup win proves a catalyst
Last updated on .From the section Rugby Union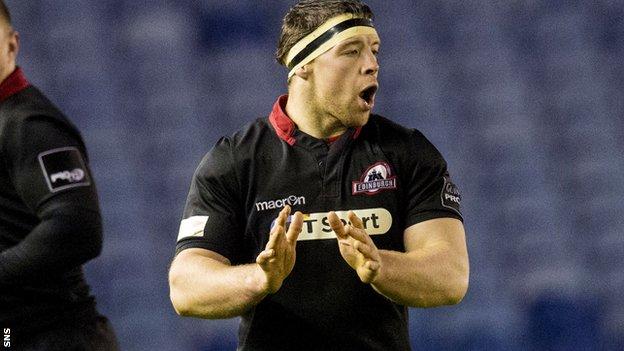 Prop Al Dickinson wants Edinburgh to take inspiration from their 1872 Cup win over Glasgow into the second half of the Pro12 campaign.
"It's huge and I don't think anybody expected us to win it," said Dickinson.
"We'll enjoy the win but we're only halfway through the season and this has to be a catalyst for us to improve."
The result, which was secured thanks to two tries from Tim Visser, moves Edinburgh up to seventh in the Pro12 table after five wins from their 12 games so far.
Warriors remain in second spot behind Ospreys.

"It's a great feeling," added Dickinson. "The season has been pretty up and down for us so far and last week was a tough battle, but we managed to overturn it. It was close at times, at the end it was a little too close for comfort, but we managed to squeeze out the win, which is great.
"It's great for the club and the fans. It's not just about the Cup, look at where Glasgow are in the league, they're so far ahead of us and it was great to pick up the points.
"We've set a standard now that we can't afford to go below. If we want to climb up the league and really compete with the top teams, and Glasgow are one of the top teams, come Monday we're back on the training ground."
Visser inspired the home side to victory and he was delighted to finally get his hands on the 1872 trophy.
"It's an amazing feeling," he told BBC Scotland. "I've been at the club for six years and this is the first time I've won the cup so it's really memorable.

"The first one was a great team try, the movement was fantastic and the lines were good. The second was a bit of luck, I invaded the line and got away with a try, so I'm really happy.
"It really showed how tight the group is at the moment. Even though we lost away last week, just to pick up a win here and get enough points to win the cup is fantastic. It's personal and it always has been, that's why it's hurt in the past when we've not been able to do it, so it's all the sweeter today."
The manner of the two-legged triumph also left hooker Ross Ford thrilled.
"We knew that nobody outside this club gave us a chance but we have a big belief in each other and we knew, having looked at the game last week, that we could definitely do it if we cleaned up some areas," he said. "We did that and Viss came up with two important tries, it was great to see him scoring them.
"It's brilliant, to get the trophy back again going into the new year is fantastic and we just have to show that consistency again next week to go away from home and continue this form. It gives us great momentum."