Rhys Priestland 'stick' could have prompted switch - Phil Bennett
Last updated on .From the section Rugby Union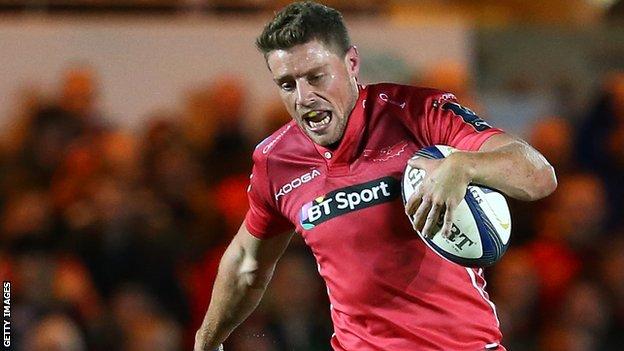 Former Wales and Llanelli fly-half Phil Bennett believes recent criticism may have influenced Rhys Priestland's decision to leave Scarlets for Bath.
Priestland, 27, will move to the Premiership when his deal with Scarlets expires at the end of the season.
The fly-half was booed by some Wales fans in the Autumn defeat to Australia.
"My friends tell me he's taken a fair amount of stick on Twitter. I think it's affected his confidence," said Scarlets president Bennett.
"I don't know whether it was booing when he came on the field at the Millennium Stadium... he may say 'I don't worry about it', I don't know, but it doesn't help surely.
"I've noticed that sometimes he'll miss a conversion or a penalty and his head will drop a little bit... whereas other guys will just throw it aside and get on with the game."
"Rhys has suffered a few injuries, played in a couple of games where things perhaps haven't gone quite as [they did] in his pomp, when [Wales coach] Warren Gatland rated him the best outside-half in Wales. Those little things may have affected his confidence.
"Perhaps he's the type of chap who says 'do I need this, or do I go away for two years and just enjoy my rugby and go to a nice place', I don't know.
"There might [also] be a financial side of it where they've offered him something which is very, very handsome. Only Rhys can give us the answers."
Priestland, who has said he needs a new challenge, may now find his international future in doubt, as a new selection policy means players leaving Wales could be excluded from Gatland's team unless there are exceptional circumstances.

The policy will become active once a minimum of six senior players, prioritised by Gatland, have been signed to national dual contracts.
"It certainly might affect him because he won't be playing regularly at Bath, he'll have to fit in when they pick him, so it might affect his international career, but who knows what that means to Rhys at the moment," said 66-year-old Bennett.
"He may say 'I've done well, I've played for Wales... scored many points, played in a World Cup'. So he may say 'life moves on'."
Priestland has scored 1059 points in 147 appearances for Scarlets and Bennett is disappointed he will be ending his 10-year association with the Pro12 side after this summer's World Cup.
"It was sadness on my part because I've seen Rhys grow up from a very young man, to join the Scarlets, to play and come through the system.
"He's been quite an outstanding member of the squad for so many years, so to lose him to Bath is a big blow for the region, a big blow for the fans.
"We saw the real Rhys Priestland on Saturday [Scarlets beat Ospreys 22-10] where he was outstanding.
"He ran with freedom, expressed himself and that was the best I've seen Rhys Priestland play for a very long time."
Priestland's departure will leave Scarlets coach Wayne Pivac without a first-choice outside-half, but Bennett says there is no rush for Scarlets to sign a replacement.
"I think they'll play Steve Shingler [at fly-half] for the moment, he's kicked quite beautifully in the last few games when Rhys has been injured.
"I don't think there's a panic there, Rhys is there until the end of the season.
"They've got three or four months to have a good look around."