Steve Diamond: Sale boss believes clubs breaking wage cap
Last updated on .From the section Rugby Union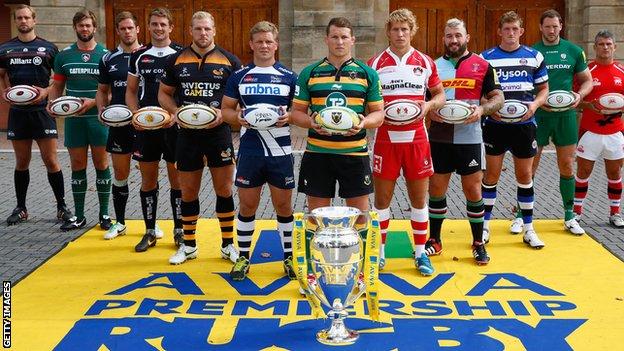 Sale Sharks director of rugby Steve Diamond believes there are some Premiership clubs paying out up to £2m over the salary cap.
Next year the cap will rise by £500,000 allowing teams to spend up to £5.5m.
"One would suggest that some clubs are spending in excess of £2m-£2.5m more than the cap - they'd have to be," Diamond told BBC Radio Manchester.
"I wouldn't say they're ignoring it. I think they're using creative accountancy to get round it.
"But it looks like one or two of them have been caught with their hand in the till, and there is a plea of mercy coming out from one or two by the sounds of it.
"And (if) that's what clubs choose to do, it's up to them - but you've also got to take the consequences, and the consequences have to be harsh, otherwise why have it?"
2015-16 Premiership salary cap

Basic cap is £5.1m, up from £4.76m in the 2014-15 season

Clubs can nominate two players to be excluded from the salary cap
Clubs can receive £400,000 in academy credits, for players who are under the age of 24, joined before their 18th birthday and are earning more than £30k a year

Clubs can apply for one injury replacement when one of their players has been injured for a period of 12 weeks or more
Saracens chief executive Edward Griffiths recently claimed seven clubs want to abolish the cap, in order to compete with cash-rich French teams.
But Leicester director of rugby Richard Cockerill and Northampton chief executive Allan Robson have since given their backing to the current system.
The wage cap is designed to encourage teams to produce young players and enhance the pool of English talent.
"Let's have it right, I know what the salaries are of all the players, I know what the agents are touting the players at, I know what my players are being offered by clubs like Bristol," added Diamond.
"I'm suggesting where we are in January 2015, if anybody has flouted the salary cap in this season, or the season before, they should be dealt with accordingly.
"We've got to keep the top players in England, so we've got to increase it and I think the increase has been right and is enough to keep your top players.
"If you want to be out there buying top international players to come in, you can't do it within the cap, I don't think."
Hear more from Steve Diamond on BBC Radio Manchester's Rugby Union Extra on Thursday, 8 January at 1800GMT.