Plymouth Albion: Troubled club in talks with new sponsor
Last updated on .From the section Rugby Union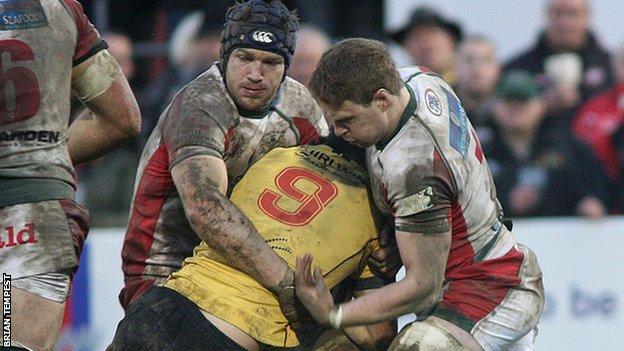 Plymouth Albion are in talks with a potential new sponsor as the club tries to avoid
Albion must raise £250,000 by Wednesday to avoid going into administration and the punishment of a 20-point deduction.
Championship bottom side Albion moved to within eight points of safety with their first league win of the season on Saturday, beating Moseley 19-18.
"There's a lot of delicate issues but we are getting a positive response," said club chairman Graham Stirling.
"We understand there could be money released and we can match it."
A club statement confirmed the approach of a new sponsor and other interested parties who are "waiting to see the level of support generated by the fans before they commit to confirming their further involvement".
The club currently gets £380,000 per year in central funding from the Rugby Football Union, a sum which
Stirling is positive about the club finding the funds needed, but dismissed reports that Albion had already secured £125,000 before the Moseley game.
"That amount of money might come together - there are conditions where that might need matching and there are some other conditions," he said.
"If we could materialise that, that's absolutely massive as it's half the challenge done, but we're not there yet."
Fans responded to the club's call for a show of support with a crowd of 1,881 - a marked improvement on their average of around 1,300 - watching Saturday's dramatic first win.
"It's been absolutely phenomenal, the response," Stirling told BBC South West.
"There's four coach loads come up form the Cornish Pirates and the whole rugby fraternity are behind us.
"Since we went to press on Wednesday it's been tremendous from the business community and there's been words of support and encouragement right across the spectrum.
"Three-quarters of our competitors have been in touch with me, wishing us all the best and asking how they can help.
"They don't want us to go into administration and this is the big challenge and where we're working very hard to avoid it."