Plymouth Albion get administration deadline extension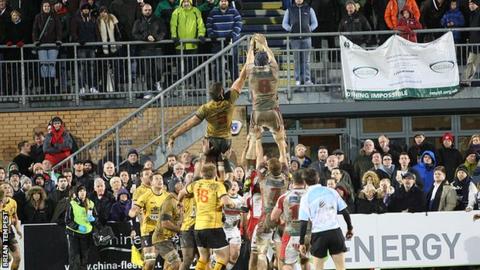 Plymouth Albion have been granted an extension to find the funds they need to avoid
Albion, who are eight points adrift at the bottom of the Championship, will make a statement on their financial future on Friday, 16 January.
The club had until Wednesday to come up with £250,000 to see them through until the end of the season.
Should the club go into administration they will be docked 20 points, effectively relegating them.
Albion's financial troubles
April 2010: Club launches an appeal to raise £100,000 to avoid the need to go into administration
January 2012: Albion after they part with head coach Pete Drewett as they
January 2015: Albion announce intention to appoint an administrator unless they can find £250,000 to keep them solvent until the end of the season
The club won their first game in English rugby's second tier since March when they beat Moseley 19-18 on Saturday.
On Monday, the club said they were
The club currently gets £380,000 per year in central funding from the Rugby Football Union, a sum which