Brian Smith: London Irish coach 'has left legacy at club'
Last updated on .From the section Rugby Union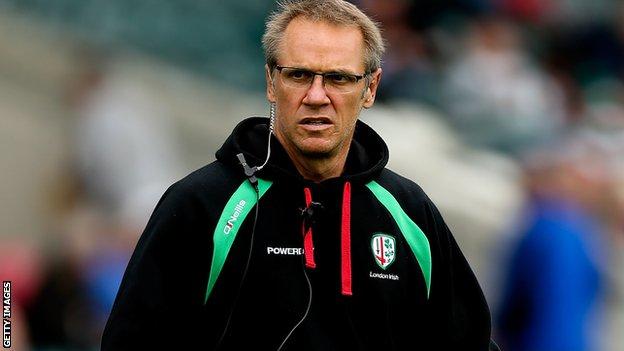 London Irish winger Topsy Ojo says former director of rugby Brian Smith, who has left the club to return to Australia, will leave a lasting legacy.
Smith had two spells at the Exiles but left on Tuesday for family reasons.
"He had a huge impact on my career and the club in terms of the way we play the game," he told BBC Radio Berkshire.
"That's still very evident now. Even when he went to England and then came back, that ethos still remained. He changed our mindset for how we played."
Smith first left the club in 2008 to join the England set-up as attack coach under Martin Johnson, before returning in 2012 for a second stint.
"He made us think about how we wanted to move the ball and he's definitely made a big impact on this club," added Ojo, who has spent his whole career at the Exiles.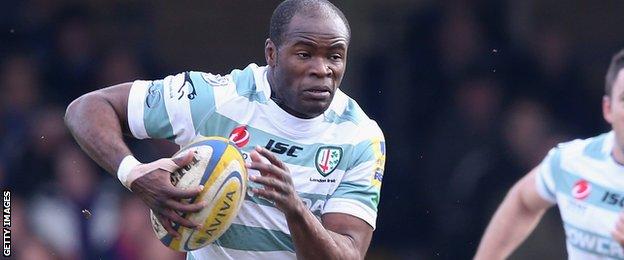 "Brian was brilliant for me. He gave me my first real shot and was instrumental in taking this team to Premiership finals and Heineken Cup semi-finals and that propelled me into the England team."
Smith will be replaced by Tom Coventry, with the Chiefs assistant coach joining up with the club after the Super Rugby season concludes in the summer.
"I know his pedigree in terms of working with the Chiefs," added Ojo.
"I watch a lot of Super Rugby and know how successful they've been, so coming from that culture and environment will be hugely beneficial for us.
"He knows what it takes to win trophies and to do it consistently and I'm sure he'll come in with new ideas, so it's exciting and I'm looking forward to working with him."
Forwards coach Glenn Delaney will take charge as interim head coach for the rest of the season until Coventry's arrival.
"Brian's a good friend of mine, but the nature of professional sport is that people move in different directions," said Delaney, who was director of rugby at Nottingham before joining the Exiles in 2012.
"I'm excited to be head coach and it's a different challenge, but I've got great staff and players and we'll keep working really hard."