Injuries will force more players to retire early - Peter Wright

By Phil Goodlad
BBC Scotland
Last updated on .From the section Scottish Rugby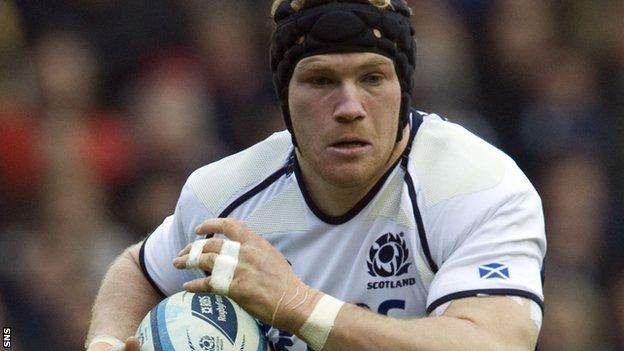 Rugby players will be forced to retire at an earlier age as the increasing physical demands of the game take their toll, according to former Scotland international Peter Wright.
"It's like American football, it's not a long shelf-life," Wright said.
"I think you're going to see more and more players in the situation where they're retiring in their late 20s."
On Wednesday, Bristol and Scotland flanker through injury aged 28.
A neck injury has ended his career in which he won 20 caps for Scotland, representing his country at the 2011 Rugby World Cup.
Wright, a former British and Irish Lion, thinks the physical power of modern players means the number of career-ending injuries will inevitably rise.
"I think the physicality of the game now is just unbelievable," he told BBC Scotland. "It's car crash. When you stand pitch-side and you hear the collisions when two players make contact it is frightening."
Wright coached Rennie as the back-row forward progressed through the youth ranks, and recognised his talent from an early stage.
Glasgow Warriors head coach Gregor Townsend on Twitter
"Ross Rennie was starting to re-invent openside play with his running lines, rip tackles & offload ability. A real shame he's had to retire."
"One of the nicest guys you could coach and also one of the most talented," he said.
"He wasn't what you would say would be the typical rugby player, big and brash and physical. Ross wasn't a massive guy but he had a real rugby brain. He knew how to play the game."
The former Scotland prop forward was forced to finish his playing career aged 30 due to injury problems, and says it will be a tough blow for Rennie.
"I think as a player you think you're invincible and you're going to play for ever," said Wright, who was capped 21 times.
"It doesn't come as a shock sometimes because obviously you've had issues with injuries and particularly the one that's going to make you retire.
"It's a huge part of your life that you've put a lot of time and effort into. At 28, to be told you can't play again, it'll be devastating for Ross.
"In the modern game he was undoubtedly a player you really enjoyed watching. He played exceptionally well when he played for Scotland, and behind that he was a genuinely nice guy as well, which makes it a bit worse."