London Irish: Tom Coventry set to start after World Cup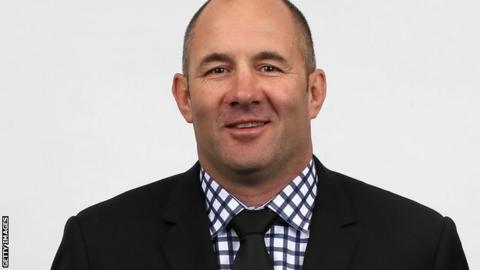 Newly appointed London Irish head coach Tom Coventry is not expected to start until after Samoa's involvement in the World Cup has ended.
Coventry's arrival was announced last week, but he is currently assistant coach at Super Rugby side Chiefs and co-head coach of Samoa.
Exiles director Bob Casey said he is in regular contact with the New Zealander.
"We speak every day or second day. As it stands he's due to arrive after Samoa's World Cup is over," said Casey.
Coventry, who joins following Brian Smith's exit as director of rugby, has admitted the demands on his time will be a "juggling act" over the next few months, but said he hoped to play some part in the Exiles' pre-season.
"We've got all that to work through but there's some timings where I can be around the club and being involved in the pre-season and getting things started so that will be one of the challenges of the first year," he told Radio New Zealand.
"But I also enjoy my role with Manu Samoa so I've got a bit of a juggling act on my hands, haven't I?"
The clash with the Rugby World Cup means the 2015-16 Premiership season will begin on the weekend of 16-18 October, after the group stages but during the knock-out rounds of the sport's showpiece event.
Samoa, who have endured a protracted row between players and union officials, are in Pool B with South Africa, Scotland, USA and Japan, with their last group game taking place on 10 October.
The top two sides from each pool progress to the quarter-finals, meaning Coventry could miss the Exiles' first game of the season if Samoa reach the last eight.
The Pacific Island side also have a Test against New Zealand on 8 July, while the Chiefs, who have won two of the last three Super Rugby titles, could be in action until as late as 4 July.
"Our relationship is very strong. Recruitment goes through him, making sure he's happy with whoever we're bringing in," Casey added to BBC Radio Berkshire.
"We're on the same page on a lot of things and we're really working together to drive this club forward."
Casey said the decision over the nature of Coventry's backroom staff would be left in the coach's hands, with forwards coach Glenn Delaney stepping up to the role of interim head coach until the end of the season.
"If you put someone in charge of your rugby programme then it has to be with people he's comfortable with," said Casey.
"We have put the boys' cases forward. We think they are excellent but it has to be Tom's decision."
Casey said the club, who have announced the arrival of Scotland winger Sean Maitland and All Blacks prop Ben Franks in recent days, have completed "80%" of their recruitment for next season, with just "two or three" positions to fill.
"For the last eight months I've been very focused on the 2015-16 season," said Casey, whose new role also encompasses responsibility for the Exiles' commercial operations.
"We've been working very hard behind the scenes to make sure we give our fans a club they can be proud of again."
Meanwhile, the club have confirmed that academy graduate Tom Homer will be leaving the club at the end of the 2014-15 season.
Homer, 24, has made 110 appearances for the Exiles, scoring 780 points in the process.
"We did everything in our power to persuade Tom to stay at the club," said Casey. "However, he feels that his future is elsewhere. We'd like to thank him for his contribution to London Irish and wish him all the best for the future."