Warren Gatland sets England roof 'challenge' for Six Nations
Last updated on .From the section Welsh Rugby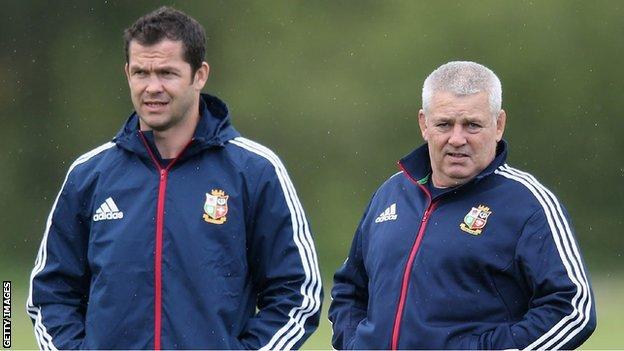 Wales head coach Warren Gatland hopes England will "accept the challenge" of playing under a closed Millennium Stadium roof in their Six Nations opener.
Gatland hopes for a similarly charged occasion on 6 February.
"I'm interested to see whether they keep the roof open or closed because the atmosphere was pretty electric that night [in 2013]," he said.
"So they may decide to leave the roof open to try and dampen down the atmosphere.
"I hope they want to close it and are prepared to accept that challenge, but we'll wait and see."
Both sides have to come to an agreement before the match can be played under a closed roof.
Wales' Six Nations Fixtures:
Friday, 6 February: England (Cardiff)
Sunday, 15 February: Scotland (Murrayfield)
Saturday, 28 February: France (Paris)
Saturday, 14 March: Ireland (Cardiff)
Saturday, 21 March: Italy (Rome)
England have in the past insisted on the roof being open, notably when coach Martin Johnson's side put up a battling display in a 23-15 defeat in 2009.
Gatland also said he expects England to play a kicking game when the teams meet in their Friday night match in February.
"Probably teams will come and kick the leather off [the ball] against us because it's one way to play against us," he said.
"So we expect England to kick everything."
England assistant coach Andy Farrell says he is surprised the mind games have started so far in advance of the game.
"I'm quite surprised, he's thrown all his grenades two and a half weeks out," he said.
"I don't know what he's going to talk about for the next two weeks!
"He's just trying to direct stuff away from his own team and that's what he always does - and by you asking the question now he thinks he's won, he's laughing at us all!"