Premiership: London Welsh pursue funding protest
Last updated on .From the section Rugby Union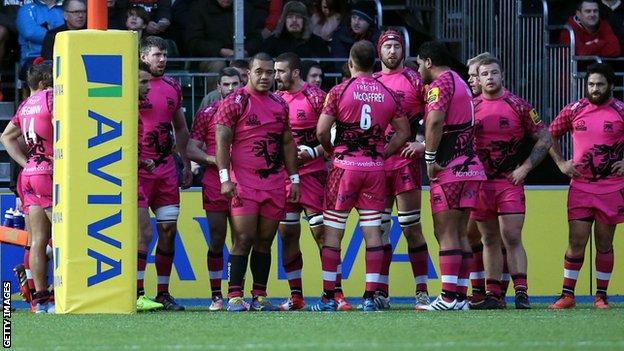 London Welsh will meet the other top-flight sides and Premier Rugby, the body representing the clubs, next month to discuss their funding complaints.
But the club say the odds are stacked against newly-promoted clubs.
Welsh say they received approximately 40% of the funding that their established rivals were handed.
The Exiles have called for "a level-playing field" in funding to avoid the disparity, with club director Stephen Cole claiming there is a £2m gap.
The Premiership works on a shareholding system with teams receiving so-called 'B shares' on their promotion to the league, followed by five 'A shares' for every year they are in the league, up to a maximum of 40.
Premiership shareholdings
Each club gets B shares
Every club gets five A shares for every year they are in the Premiership
Clubs get a maximum of 40 A shares after six years
P shares, worth 25% of income, are only given to 13 clubs.
Teams receive all 40 A shares when they have been in the league for six successive seasons. However, for each season a side is out of the Premiership they lose five A shares.
There are also 13 'P shares', which are worth 25% of a club's central funding income. In 2013, Exeter Chiefs - who were promoted in 2010 and have since established themselves in the Premiership - bought Leeds' P shares for £5m.
"Each club promoted to Aviva Premiership Rugby has the ability to become a full shareholder over time and also benefit from the parachute payment if relegated," a Premiership Rugby spokesman told BBC Sport.
The club have also called for an end to the Championship play-off system, complaining that it does not give newly-promoted sides enough time to sign players of sufficient calibre to compete in the Premiership.
London Welsh's promotion was confirmed on 4 June last year when they edged out Bristol in a two-legged play-off, and they embarked on a major signing spree over the summer, with 25 players arriving at the Kassam Stadium.
London Welsh's Premiership season in numbers

Played:

13

Won:

0

Drawn:

0

Lost:

13

Points for:

109

Points against:

576
BBC Sport understands the proposal would receive support among the Premiership clubs but an RFU spokesperson confirmed there are no immediate plans to get rid of the Championship play-offs.
This season, the play-offs have been brought forward slightly so the club gaining promotion to the Premiership will know their fate on Wednesday, 27 May.
The club are also unhappy about the arrangements in place for academies, with the Exiles having to contribute towards the overall cost of Premiership clubs running academies without being allowed to develop their own.
The academy system works on a geographical basis, with Oxfordshire currently allocated to Wasps - who have relocated to Coventry.
London Welsh's board met on Thursday and voted unanimously to pursue the complaint, with a meeting arranged for 4 February to debate the proposals the club have put forward.
"We want to take this forward in a positive and constructive manner to secure an equitable outcome, not just for London Welsh but for any club with the ambition of promotion to the Premiership," read a statement.
"The club will continue to press diligently and purposefully to secure such resolution."