Glasgow's Tommy Seymour not chicken ahead of Bath match

By Tom English
BBC Scotland
Last updated on .From the section Rugby Union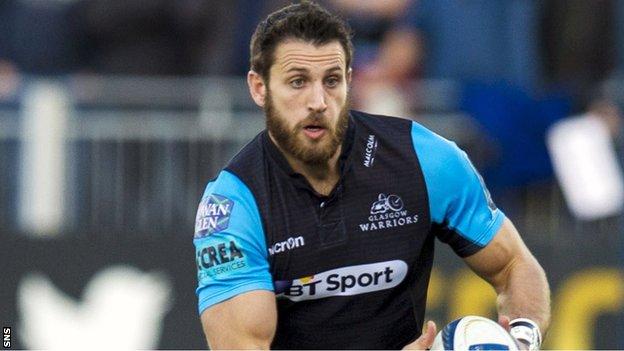 European Champions Cup - Pool Four
Venue:
Recreation Ground, Bath
Date:
Sunday 25 January
Kick-off:
13:00 GMT
Coverage:
BBC Radio 5 live Sports Extra, BBC Radio Scotland 810MW and BBC Sport website
Tommy Seymour took a circuitous route to Glasgow, via Tennessee, where he spent the early years of his life, Dubai, where he stayed for 18 months, and the tiny dot on the Northern Ireland landscape that is Tyrella, a beautiful beach-side parish on the County Down coast.
To Seymour, Tyrella is still home. Or, at least, one of his homes.
With that accent - a mix of American with some Irishisms thrown in and a hint of Glasgow, too - it's not easy to pin-point precisely where the wing is from. Even for him, it's a bit of a puzzler.
The travel in his youth was down to his dad's work in the manufacturing industry, but those globe-trotting days are pretty much over. His parents still live in Northern Ireland, but he's very settled in Glasgow and very grateful for the opportunities that Scotland has given him, not just with the Warriors of Scotstoun but with the blues of Murrayfield.
Thirteen international caps and six tries including three in his last three Tests, against Argentina, New Zealand and Tonga. It's a fine return from the 26-year-old whose career could have gone in such a different direction had he made it with Ulster, his first professional club, and had he built on the Ireland cap he won at Under-19 level back in 2007.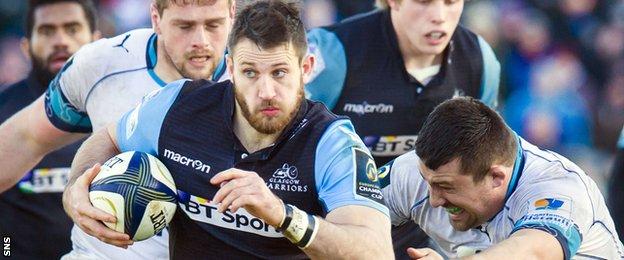 His colours changed when he joined Glasgow in 2011 - and so did his life. There's a big Six Nations coming up for him, then a World Cup. Before all of that, there is Sunday and You could call it a win-or-bust situation for Glasgow's dream of making the knockouts in Europe for the first time, but even that might not adequately describe what they're looking at.
With the possibility, if not the probability, of them needing to triumph with a four-try bonus point it could be a case of win-big-or-bust against a Bath team that ran riot in Toulouse's backyard last Sunday.
Seymour talks about what lies ahead. He mentions the excitement of the challenge and the respect he has for his opponents, but it's not fear. No, no. Rugby holds no fears. You ask 'What does?' and at that point things take a bit of a detour.
"Chickens," he smiles.
Chickens?
"I've got a phobia about chickens, created through childhood trauma. There's an actual word for it - alektorophobia. I know guys who have phobias about dangly ear-rings. I'll not name names. Everybody's got something."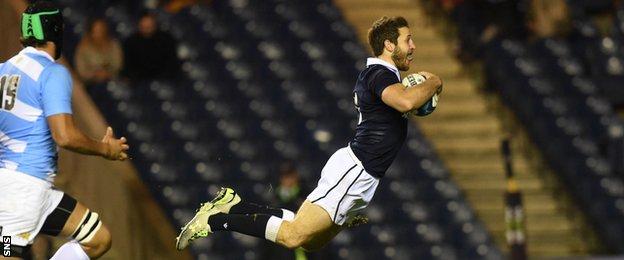 The chicken thing goes back to when he was nine or 10 years old. Himself, his brother and his sister were staying with his aunt and his cousins in Yorkshire. On their land, they had chickens and the children had chores. Seymour's gig on this fateful morning was to feed the blighters away at the end of a garden that, in his mind's eye, was the length of a rugby pitch, if not longer.
He recalls: "I got penned-in by what I can only describe as a deformed chicken. It pinned me in the garden shed for an hour. This deformed one, that had been adopted, started making this noise that chilled me to the core. The noise, honestly, I can still hear it. It wasn't human - or wasn't chicken, should I say.
"It came running at me from behind these trees and I freaked out and threw the seed in the air. It chased me towards the feeding shed so I locked myself in there thinking it would go away. An hour later it was still outside, pecking away.
"Eventually, my brother came looking for me. He shooed it clear and opened the door and I ran and never looked back."
Seymour delivers his lines with the precision-timing of a top comedian. He knows this stuff is funny - and he knows that people will think he's bonkers - but he's deadpan all the way through. Hilariously so.
He says that for years, Sue, his Glasgow-born mother, wouldn't believe this tale of the mutant chicken at the bottom of the garden, but slowly it became obvious. Every time her boy saw fowl, he'd scarper in the opposite direction.
The family visited a castle in Wales once and he climbed a tree to get away from the rampaging chickens on the grounds. Of course, his siblings didn't help the situation by clucking the birds towards the tree and sprinkling feed at its base.
"I was up there for a good 40 minutes. Even now, my fiance's father keeps chickens and I can't look out his kitchen window because I know I'll see them. I can eat them, though. No problem there. The way I look at it, it's one less chicken in the world. I'm conquering them one by one."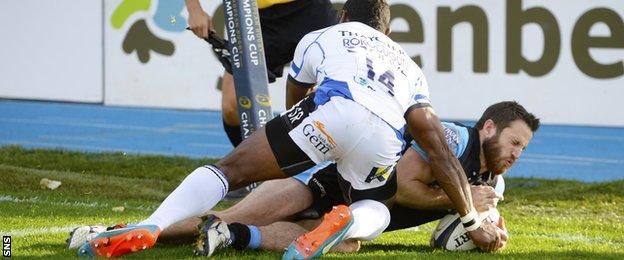 Revelations likes this are like gold to the wise-guys in a dressing room.
He says: "A few of the boys have said, 'What would you do if we put a chicken in your car?'
"I said, 'Without question, that friendship would be dead'. They were testing my levels of how bad I'd react. I tell them, 'Boys, no joking, there'd be serious payback'."
Seymour spent the first nine years of his life in Nashville but there's not a lot of the States left in him, he says. A trace of an accent, perhaps. When you say that he seems to have the positive can-do American attitude, he laughs at the thought of it.
"The boys would find that funny," he suggests. "My nickname is Stern because they say I'm always grumpy, but one thing I'll say about spending my early years in America was that a love of sport was instilled in me. I played a lot of soccer and basketball before I ever played rugby.
"Michael Jordan was my inspiration, He was the one. As a kid, I loved the man. I had posters of him all over my bedroom wall. He was a magician, untouchable. The things he could do as an athlete were unbelievable. His awareness on the court, I was in awe of him. He was the guy who made me love sport more than anybody else."
These are the best days of Seymour's career, but he hasn't forgotten what it was like before, when he was in the shadows at Ravenhill, unplayed and unwanted.
He says: "There was a lot of frustration there. I was a young guy but I wasn't getting game-time. I felt I had something to offer but some of the people there didn't think I had. That's disappointing for a player, when you say 'Look, I've got something and they say, 'No, you don't'.
"There just weren't any opportunities. I was really happy and grateful to come here. It feels like home, it feels like my club, it feels like a perfect fit. In terms of who you want to win a title with, these boys are who you'd want to win with."
Their European adventure had an explosive beginning this season, a romp against Bath to start with - Seymour scored one of Glasgow's five tries that day - and a two-point win in Montpellier to follow, not that he recalls a whole lot about it. He got knocked out having made an unwise decision to run at the French team's hulking lock, Sitaleki Timani, who comes in at 6ft 8in and 19st.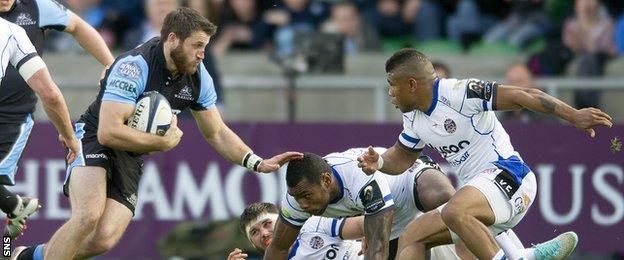 "I picked out the biggest dude on the pitch and took a quick dirt nap," says Seymour. "I ran the worst line possible into the most enormous player known to man. He batted me off like a fly. I came around and the doctor and the physios took amazing care of me, but it was a fair old clatter.
"Concussion is such an important issue now and it's easy to see why it's important because of the studies in the NFL and the impact that head knocks can have on athletes in later life.
"There's one thing you don't mess around with and that's your head. The concussion message has really hit home. There can never be too much safety put around it."
Glasgow - if not Seymour - were sitting pretty after two games of the Champions Cup, but back-to-back losses to Toulouse and Bath's recovery from their wretched opening match changed the narrative of the group. They've made life hard for themselves now. Qualification is not impossible, but it's going to require something truly special.
"It's a serious job on our hands, but we always knew it was going to be like this," Seymour adds.
"We knew that it was going to come down to the last match and that we'd have to win it. They're a quality attacking team, Bath. When they get the ball they're really enthusiastic about trying punish defences. They showed it in Toulouse. You give them an inch and they'll take a mile."
We finish with a question from left-field. If he was to invite four people round for dinner, who would they be? He doesn't need any time to answer. Four? He wouldn't have that many for a start.
"No, it would be dinner for two, by candlelight," he replies.
"Me and Michael Jordan. And we'd have chicken."