Scottish Rugby 'in good health', says chief executive Mark Dodson

By Phil Goodlad
BBC Scotland
Last updated on .From the section Scottish Rugby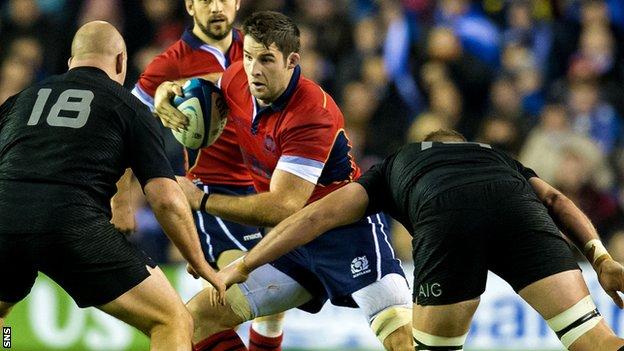 Scottish Rugby is in a better shape at all levels than it was when Mark Dodson became chief executive in 2011, according to the man himself.
Dodson pointed out that the national body's debt, which once stood at around £25m, is now down to "£9m-10m".
And he believes that performances by the two professional teams - Glasgow Warriors and Edinburgh - as well as the national team are improving.
"We are in pretty good health at the moment," Dodson told BBC Scotland.
"Since I've arrived, we are in the best financial position we've been in, I think our player group is the strongest we've had since I've been here and now we've got a coaching group across the pro teams and across our international teams which is starting to be the envy of other nations."
So much so that Dodson is keeping to his target, set in June 2012, of Scotland winning this year's Rugby World Cup.
The chief executive said he realised at the time he would be criticised for making such a bold statement but that it was all "about recalibrating people's approach here".
"I think it has altered people's focus in Scotland," said Dodson. "People now think that this team and country should be aiming to win the World Cup. It did its job.
"It is clear that we've made progress and I think we see the Rugby World Cup in 2015 as being the target for us."
Scottish Rugby had little room for manoeuvre financially because of its debt burden when Dodson took charge.

"It is well under control," he said of the position now. "If you look at the debt repayment schedule that we've adhered to, we've got the debt coming down at a rate that everybody is happy with.
"It is under control now and will be pegged down further in years to come.
"We've done an incredible job in delivering an improved eco-structure for the game as well as resolving our debt issues."
Dodson hoped that Scottish Rugby could be debt free "in the not too distant future" while pointing out that changing circumstances may force further spending.
One future expense he ruled out was building a new stadium for Edinburgh, who currently play fixtures that attract at most 5,000 in a national stadium at Murrayfield that has a capacity of 64,000.
In 2012, Glasgow moved to a redeveloped Scotstoun Stadium, owned by Glasgow City Council and which doubles as an athletics venue.
"There's no equivalent of Scotstoun here," said Dodson.
"If you look at the redevelopment of Meadowbank, which the Edinburgh Council talked about, it is wholly unsuitable for rugby.
"Most of the grounds where we can play are too small for us as a long-term base, so we have to find a new home because we realise that it is not ideal.
"We could build one, but we would just take the debt back up to where it was before and, as a long-term proposition, it is not the best use of money for Scottish rugby."