Six Nations 2015: Hugh Blake surprised at early Scots call
Last updated on .From the section Rugby Union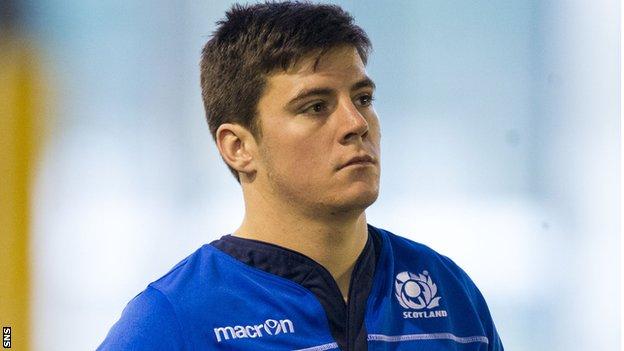 Hugh Blake insists he was as shocked as the media to be chosen for the Scotland squad ahead of some established players and has urged fans to be "open-minded".
The New Zealand-born 22-year-old received the call before he has even played for his new club, Edinburgh.
"Obviously some quality players have been left out of the side who are Scotland legends and there's a bit of controversy there," said flanker Blake.
"But I can't do anything about that. I was surprised to make this squad too."
Blake, who qualifies through grandparents, has yet to make his Edinburgh debut despite having joined the Pro12 club on trial in early December.
However, he was thrust into the limelight as head coach Vern Cotter named him in his 32-man squad for the Six Nations.
Established forwards like Kelly Brown, John Barclay and Johnny Beattie were left out, although the latter has since been added as injury cover.
"Obviously I've come over at such a young age with the ambition of eventually playing for Scotland and it's all happened earlier than expected," Blake told BBC Scotland.
"But I'm honoured and stoked to just be a part of it."
Blake previously represented New Zealand to Under-20 level and was in the team that lost to hosts South Africa in the 2012 IRB Junior World Cup final.
"Every young New Zealander aims to be an All Black, but I knew I had this option of playing for Scotland," he said, insisting that it was not a case of him choosing the easier option when seeking an international cap.

"Playing for the New Zealand colts at the World Cup was a good opportunity for me to show a few guys in Scotland and that's how I got initially contacted.
"As soon as that happened, I was really keen to get over here."
Blake stresses that he is not an unknown quantity to his fellow Kiwi, Cotter, who is in his first season in charge at Murrayfield.
"I believe Vern's done a lot of research and watched a lot of video footage of me back in New Zealand," he said.
"I've had a few talks with him and he's described how Scotland are trying to play suits my game."
Blake began his career with Pirongia in Waikato, joined Otago in 2011 and was part of the Highlanders squad in 2013.
He thinks his Super Rugby experience led Cotter to believe he could fit his philosophy of making Scotland play with a bit more tempo, to "throw the ball around a little more and just play a bit more expansive".
Blake stresses that he has to win a place in the Six Nations side before thinking about playing at this year's World Cup.
"Obviously I'm new to the Scotland set-up and I hope that I can prove myself not only to the coaches but all the fans as well," he said.
Asked what his message was to those supporters, he said: "Just to be open-minded. I'm just new, but I believe I can play at international level."
Blake says he grew up watching Scotland on television in the Six Nations along with his uncle.
"Both of my grandparents are from Glasgow and emigrated to New Zealand in the 60s and their family is still here," he added.
"I have managed to catch up with family in Ayr and around the place. My auntie lived in Edinburgh for 15 years and married a man from Edinburgh, so there's a lot of Scottish in the family. My family's very proud."