Ryan Wilson: Scotland future unclear as disciplinary hearing set

By Phil Goodlad
BBC Scotland
Last updated on .From the section Scottish Rugby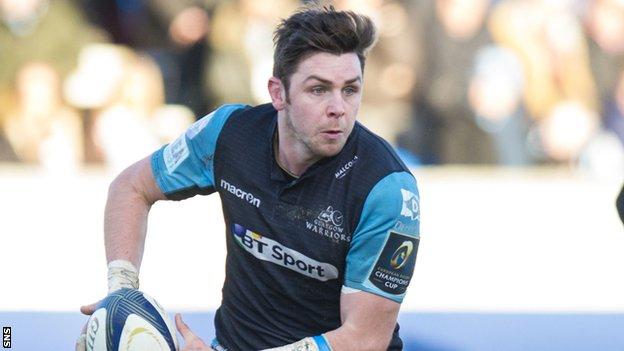 The Scottish Rugby Union will instigate a disciplinary hearing with Scotland forward Ryan Wilson early next week.
A similar charge against Ryan Grant, 29, was found not proven, but he has been left out of Scotland's Six Nations squad.
Head coach Vern Cotter took part in the discussions with the Scottish rugby board on Thursday.
An SRU statement said: "At today's meeting of the Scottish rugby board, the recent trial of several Glasgow Warriors players was discussed.
"As a result Scottish Rugby will be instigating a disciplinary hearing with its employee, Ryan Wilson, in the early part of next week.
"As previously stated, Ryan Grant and Rory Hughes have returned to their club and are available for selection by Glasgow Warriors and Scotland respectively.
"No further comment will be made by Scottish Rugby until the disciplinary process has been concluded."
The SRU previously said Grant, who has 19 caps, has already been disciplined internally and that he and 21-year-old back Rory Hughes, who was also had a charge not proven, will return to Glasgow Warriors.
But Wilson, who has played nine times for his country, has been suspended from all rugby and a statement has yet to be made about his future with the Pro12 club.
He was fined on Tuesday for assaulting two men, including fellow rugby player Ally Maclay of Glasgow Hawks, in a takeaway shop in the west end of the city on a Halloween night out in October.

In an official statement, SRU chief executive Mark Dodson was critical of the three players who appeared in court.
"This has been a wholly regrettable episode," he said.
"Regardless of the verdict, there is absolutely no place in the game, on or off the pitch, for the sort of behaviour that has led to criminal proceedings being taken.
"Rugby has a longstanding reputation as a family sport and all players have a responsibility to uphold the game's values.
"Those involved have learned a harsh lesson and I know that the three players, who are also our employees, are extremely chastened and remorseful about the whole episode.
"It's completely unacceptable for any player within our employment to let themselves get into such a situation and this case should act as a powerful reminder to all players that they are role models for our sport.
"Scottish Rugby acknowledges and regrets the effect this incident has had on Ally Maclay and will be having a discussion with him to understand if there is any support he may need going forward."
A fourth Warriors player, back Sean Maitland, who was part of the 2013 British and Irish Lions squad along with Grant, was originally questioned by police in connection with the incident, but no charge was brought against him.
Maitland was named in the latest Scotland squad before it was announced last week that he would be leaving Glasgow to move to London Irish at the end of the season. although he has since been ruled out of the early stages of the Six Nations through injury.