Steffon Armitage: English flanker arrested with Toulon team-mate
Last updated on .From the section Rugby Union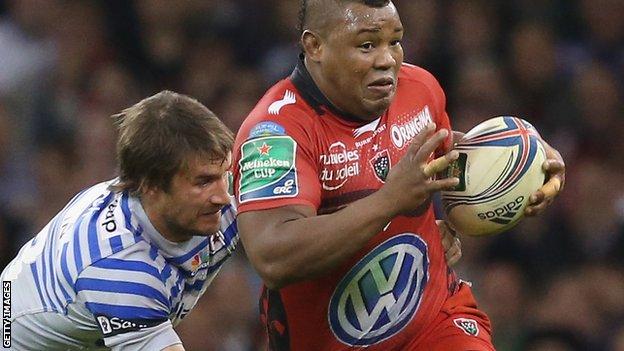 Toulon's English flanker Steffon Armitage and team-mate Xavier Chiocci have been questioned by police over an alleged assault last month.
Toulon confirmed the pair were interviewed on Wednesday after a 30-year-old man sustained an eye injury in a restaurant as the players celebrated a win over Leicester on 13 December.
Armitage, 29, was released from custody on Thursday but ordered to appear in court on February 10.
Chiocci, 24, was released on Wednesday night with no charges brought.
According to France Bleu radio station, both players told investigators they have no memory of what happened that night.
Armitage was voted the European Player of the Year in 2014 and has won five England caps.
He was not under consideration for the Six Nations because of England's policy of not selecting players based overseas.
A Toulon statement read: "Rugby Club Toulon learned yesterday of the taking in custody of two of its players, namely Steffon Armitage and Xavier Chiocci.
"Rugby Club Toulon awaits the results of the investigation and will if necessary bring sanctions."
Both Armitage and prop Chiocci have been named in Toulon's 25-man squad for Friday's Top 14 home match against Bayonne.