Women's Six Nations: Ex-rower Rowe throws oar in with Wales
Last updated on .From the section Rugby Union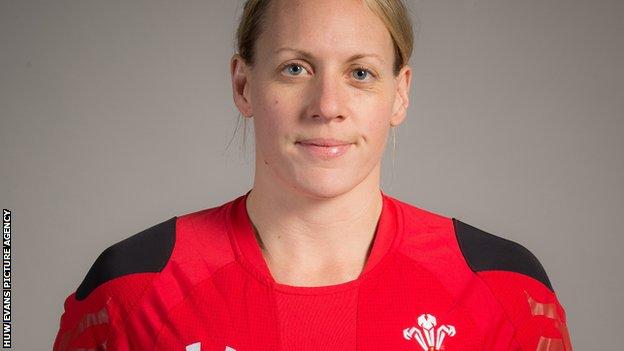 Rebecca Rowe was destined to represent Great Britain in rowing at the 2008 Beijing Games before a persistent back injury shattered her Olympic aspirations.
"I was in constant pain. I couldn't do any day-to-day things - even getting out of bed was hell," she told BBC Sport.
Rowe had won a Commonwealth Games silver medal for Wales in 2006 as well as European Championship bronze for Great Britain a year later but her rowing career was cut short when bulging discs in her spine were diagnosed.
"It was utter disappointment. I feel that I never really reached my potential in the sport. I'd only been doing it for five years, which isn't that long compared to others. I was devastated at the time," she said.
"Not making the Olympics in rowing was hard - that had always been my dream."
Rowe had always been a top athlete, winning world titles in surf life saving and swimming for Wales before switching to rowing.
Her medical condition meant a total rest from sport for six months. She recovered but was unable to row again.
Rowe wanted to stay fit but after years of being involved in high-level sport the gym and running just didn't cut it. She started looking for a new challenge and found rugby.
Wales captain Rachel Taylor on newcomer Rowe
"I've found her really inspiring and it's great she's so keen for training. You can tell she swam [for Wales]: when we do a pool session she's at the other end before the rest of us have come up for breath."
And now at the age of 33, Rowe is on the cusp on winning her first cap for Wales in the Six Nations, after being selected in the starting XV to face England at St Helen's on Sunday.
"I'm quite a competitive person and I always need that in my life and I've just kept going back to try and be the best."
A geography teacher by day, she started playing rugby for fun in 2012 and her Welsh roots then led her to play for London Welsh.
A chance conversation with a friend last September set her on a path to international recognition. "A friend at the club had seen the Wales Rugby Talent ID day advertised and mentioned she was going. I knew I had to go.
"I had no idea if I'd be good enough but I just thought 'why don't I go along and find out?'. To be honest I only decided to take rugby seriously after that day. It's been crazy."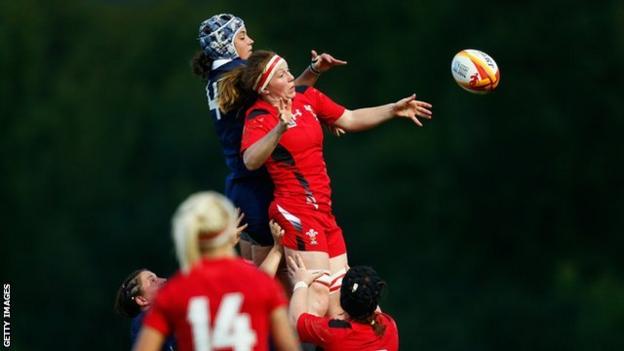 Wales Women's head coach Rhys Edwards has been impressed by her training ethic: "She's been brilliant. Her attitude and background in top-level sport is quite evident in her application with us. It's also great for the other girls around her to see that."
The lock is still careful of her back issues but doesn't let it impede her game: "It hurts when it's repetition. In rowing, it's the constant loading on the lower back with every stroke. With rugby it's different; it's not miles and miles of doing the same movement. I think that's the key.
"I'm wary of it and I really look after it, especially now I'm getting a bit older."
Wales play England at St Helens on Sunday, 8 February, KO 2.30pm. Follow live on the BBC Sport website