Steffon Armitage: RFU chief denies Stuart Lancaster talks over flanker
By Chris Jones
BBC Radio 5 live
Last updated on .From the section Rugby Union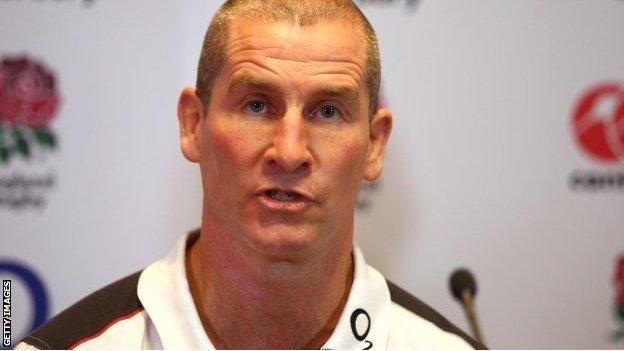 Bringing France-based Steffon Armitage into the World Cup squad has not been discussed with England coach Stuart Lancaster, says RFU chief Ian Ritchie.
Armitage is ineligible for England while playing for Toulon due to RFU policy on overseas-based stars, other than in "exceptional circumstances".
The flanker, 29, is in superb form, while England have back-row injuries.
"If there is something down the line where [the policy] changes, we will discuss it," Ritchie told BBC 5 live.
"We would need to have that conversation and we haven't had it yet," he added.
Armitage has been outstanding for Toulon for the past 18 months but is currently facing a court appearance in France over an alleged assault - and Ritchie says off-field discipline has a bearing on selection.
"Stuart has been excellent at looking at the culture of the team, but I haven't got a clue about the circumstances apart from what I've read," said Ritchie.
"At this stage it's irrelevant as to whether it makes any difference.
Ian Ritchie's aims for Rugby World Cup 2015
Event delivery
"We want it to be one of those great memories you never forget. I think we'll achieve that. The ticket interest is looking fantastic."
England's success
"We want England to win, of course we do, and are busting a gut to do all we can to achieve that. World Cups, as we all know, are difficult to win, but we have that belief."
World Cup legacy
"It's really key to inspire a nation not only to support the team during the World Cup, but to support rugby. Legacy is a much-abused word, but we really want to have a situation in 2016/2017 where there are more people playing, volunteering, refereeing and coaching. That will be one of the acid tests - have we really moved the game on? I think we will."
"This is an RFU policy - in collaboration with Premiership Rugby - about making sure we have the best possible professional league in England. We want the best English-qualified players playing in England.
"We think the policy is a really good one for the betterment of English rugby and we are very happy to stick to that."
Armitage hasn't featured during Lancaster's three years in charge, and Ritchie accepts selecting the flanker at the expense of an England-based player would be controversial.
"That's a perfectly valid point, and all these things need to be weighed in the balance," he said. "But we are (talking about) hypotheticals."
Rather than turn to Armitage following the injury to Ben Morgan, the 36-year-old Nick Easter has returned to the fold after a lengthy absence.
"You want to be a meticulous planner, but the nature of the beast is that things happen that you can't always deal with - when Ben Morgan sadly broke his leg.
"We should be doing what we can to make sure we do win."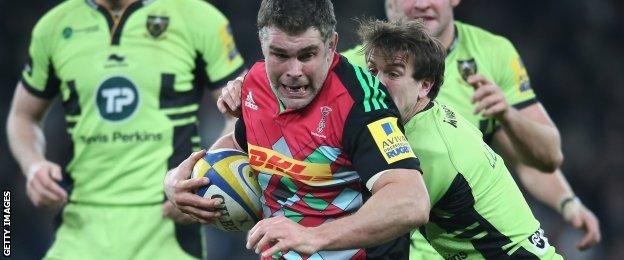 Ritchie also feels rugby can't afford to be complacent about its values and reputation, in light of recent negative coverage.
The players' union, the RPA, have met with the referees' chief Tony Spreadbury to combat the growing prevalence of diving and the lack of respect shown towards officials - while around a third of the cases, more than any other sport, on the UK anti-doping sanctions list involve rugby union.
"You can't stick your head in the sand and pretend there aren't challenges," Ritchie added.
"We are rigorous about testing and education. We will rigorously enforce the laws and stop people doing this.
"The values are enormously important and we need to make clear those values are important."
While Ritchie's priority in 2015 is to deliver a successful Rugby World Cup, he is eagerly anticipating the start of the Six Nations next week.
"I love it to bits. I am a complete nervous wreck, but that's what it's all about," he admits.
"This is going to be a momentous year for rugby, one of the key years in the development of the game."
You can hear more from Ian Ritchie on the 5 live Rugby podcast here.