Six Nations 2015: How Gavin Henson's kick began a golden era

By Ross Harries
Scrum V presenter
Last updated on .From the section Welsh Rugby
RBS Six Nations: Wales v England
Venue:
Millennium Stadium, Cardiff
Date:
Friday, 6 February
Kick-off:
20:05 GMT
Coverage:
Live on BBC TV, HD, Red Button, Radio 5 live, BBC Radio Wales, Radio Cymru, S4C online, mobile, the BBC Sport app and Connected TV.
The 2015 Six Nations Championship marks the 10th anniversary of Wales' first Grand Slam of the professional era. We take a look back at those heady days, and look forward to this year's tournament.
It was the most sweetly struck of penalties. The connection was perfect, and the ball sailed end over end between the posts.
Gavin Henson's kick was the sort that is landed on rugby pitches the length and breadth of the British Isles most weeks.
But this one wasn't just fighting the elements, the angle, the trajectory, or the nerves.
It had 27 years of history dragging it back through the charged atmosphere, weighing heavily on the flight of the ball.
But Henson didn't care much for history. He nailed it, and set in motion the most significant six weeks in Welsh rugby for nearly three decades.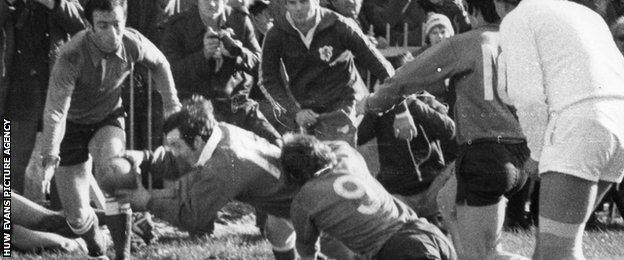 Wales had beaten England. For the first time in six years. It gave hope to a beleaguered rugby nation. It was the first step on the road to a remarkable, and unlikely, triumph.
The first Welsh Grand Slam I witnessed was in 1978. I was less than a year old and, of course, remember nothing of it.
But my dad insists I was there alongside him, red-and-white bobble hat on, as Phil Bennett scored two tries against France to secure the clean sweep.
But as the years passed, and the '80s and '90s wore on, I became silently resigned to the fact I would never witness another.
Professionalism had opened a gulf between England, France and the rest, and a succession of 40 and 50-point hammerings turned that gulf into a yawning chasm.
My conviction it would never happen again made the 2005 Grand Slam all the sweeter. After England, Italy were taken to the cleaners, France were humbled in Paris, and Scotland were cut to ribbons at Murrayfield.
It meant all roads led to Cardiff for a Grand Slam finale. By the time 19 March dawned, it seemed it was Wales's destiny to lift the trophy.
When I met Mike Ruddock, Wales coach in 2005, last week, his language was more prosaic. "Destiny is perhaps the wrong word. In rugby terms, we speak about momentum.
"By the time of that Ireland game, we felt our momentum was unstoppable. It was a fantastic day, a fantastic occasion, and there was a sense of genuine excitement throughout the country.
"There was a huge belief from the players, a huge amount of belief from everyone in Wales. But in some ways there wasn't huge pressure. It would still have been a great season if we hadn't nailed that final game."
But nail it they did. The blazing spring sunshine shone brightly on Wales that day, and they refused to wilt in the face of its glare. Ten years on, Wales have won three more Six Nations titles.
Ruddock may work in the less glamorous surrounds of Lansdowne RFC these days, but he's one of a very select band who can put 'Grand Slam-winning coach' at the top of his CV.
That Ireland game was the start of a real shift in the significance of the fixture.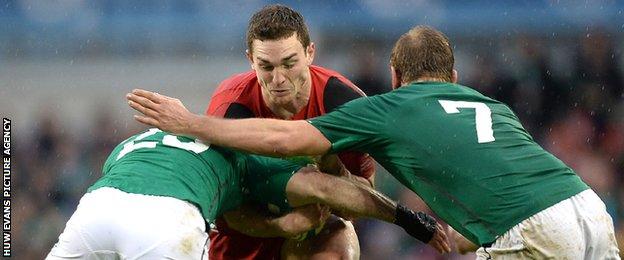 From that point onwards, Wales v Ireland became a running soap opera with tip-tackles, accusations of cheating, ball-boy shenanigans, last-minute drop-goals, World Cup quarter-finals, and what was billed as the mother of all grudge matches after Ireland's prodigal son Brian O'Driscoll was dropped from the Lions by Wales coach Warren Gatland.
For a decade now, it's been a decisive fixture in the outcome of the Championship. And it may well prove a decisive fixture this year too.
But for all that the Ireland-Wales fixture offers in terms of drama, it's probably still Wales versus England that most captures the imagination. That fixture kicks off this year's tournament.
It's gone the way of the home side for the past two years, emphatically so in Cardiff in 2013, when Wales won 30-3.
But England coach Stuart Lancaster believes last year's Twickenham victory has laid those demons to rest.
So far the build-up has focused on England's injury-ravaged squad and Wales' relative stability.
That, coupled with home advantage, seems to point towards a likely Welsh victory.
But history has a habit of interfering with form, with rationale.
And it's not just history weighing on this fixture, but the spectre of the future too.
It's almost 10 years since Ruddock's side reshaped Welsh destiny, setting them on a path towards a new golden era.
It's eight months until Wales and England meet again in a match of seismic significance - a World Cup pool match at Twickenham on 26 September.
In Cardiff the first sentences will be written in a new chapter of both countries' histories; a chapter that could end in either World Cup glory or despair.
At 20:05 GMT on 6 February, 30 players will be focused on the present.
But the past and the future won't be far from their minds.