Six Nations 2015: Wales will be hard to beat - Gareth Thomas
Last updated on .From the section Welsh Rugby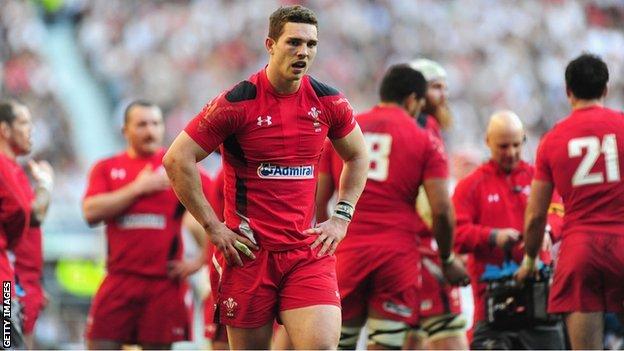 RBS Six Nations: Wales v England
Venue:
Millennium Stadium, Cardiff
Date:
Friday, 6 February
Kick-off:
20:05 GMT
Coverage:
Live on BBC TV, HD, Red Button, Radio 5 live, BBC Radio Wales, Radio Cymru, the BBC Sport website, S4C online, mobile, the BBC Sport app and Connected TV.
In the first of his 2015 Six Nations columns for the BBC Scrum V website, former Wales captain Gareth Thomas looks ahead to Friday's opener against England in Cardiff and assesses Wales' chances for the rest of the Championship.
Thomas, 40, was the first player to win 100 caps for Wales, playing at centre, wing and full-back, scoring 40 tries. He also won three British and Irish Lions caps, captaining them in two Tests, and also represented Wales in rugby league.
Wales tried and tested
I think it's business as usual for Warren Gatland, the Wales team pretty much picks itself.
He's shown faith in the same group of players and it's pretty much the in-form players, it's the players who will do the job that Gatland's style of play dictates.
Liam Williams is again unfortunate to miss out, but wing George North - although he didn't play when Wales beat South Africa - has shown outstanding form for Northampton.
With the other change, Richard Hibbard has come in at hooker and when you look at that team it's a solid team that will be very difficult to beat, and more importantly very difficult to beat at home.
A lot of those players will have experienced two years ago when England came to Wales for the Grand Slam and they know what they have to do to create an intimidating atmosphere.
Wales will be without prop Adam Jones after his decision to retire. He's a top, top bloke and I would have loved to have seen him get 100 caps for Wales.
The laws of the scrum and the way props play have become a little bit different from when Adam was the best prop in the world.
Things have changed and they've benefited from the likes of Samson Lee, but I do think a lot of the young players in the squad could have learned so much from Adam.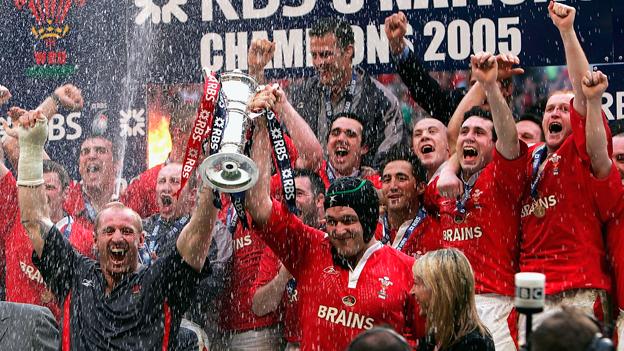 So I do feel disappointed that he hasn't been kept around to give advice and support to the young crop of props that are now first choice.
But as a rugby player you have to respect the coach's decision and if the coach's decision is that you're no longer needed [at least for the Six Nations] - as sad as everybody is - you have to trust that.
England hobbled but dangerous
England are the underdogs, there's no doubt there's some big players for them that are injured.
There's a lot of disruption within the backline. Even when everybody's fit you're not sure who's holding down what position, especially who is playing at 12, at 10, but England will always have a strong pack.
If England were coming with a full-strength team then it would be a really, really tough call but I think them coming with what's been a team in turmoil and trying to get players fit and on the field, adds to Wales being seen as favourites.
England coach Stuart Lancaster has limited options but you must come to a game working on the opposition, you can't come saying: 'Let's just play it our way.'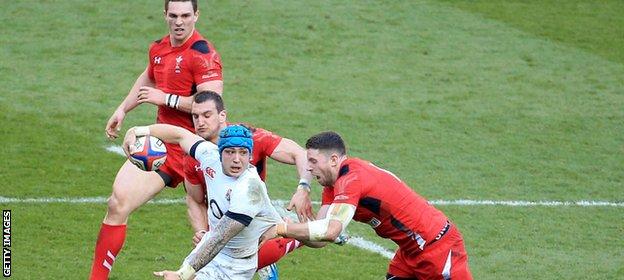 Wales have a very physical, strong team; you know exactly what centres Jamie Roberts and Jonathan Davies are going to be doing, they're going to be attacking whoever plays 10 and whoever plays 12.
You need someone to contain the big, bulk players and target players that Wales have.
England have excited me over the last 12 months, especially with a back three that were exciting, that were willing to run the ball and scoring great tries.
They were this full-on team that could match teams up front but also match them for pace and skill behind.
The key for England on Friday is finding a midfield partnership that will not only contain the strong runners that Wales have, but will also be able to release the dangerous players in their backs.
The Millennium Stadium factor
England are also underdogs because of the Millennium Stadium factor... it's a very, very hostile, intimidating place to play.
Lancaster needs players who can keep their cool and keep their heads at times when others of less experience will potentially lose theirs.
Every player worth his salt - in both squads - understands there will be times when you can't get the message out and it's good to pull players together and refocus.
When they reach the Millennium Stadium they may be used to this noise, but it's not the same as the atmosphere when you've got tens of thousands of crazy Welshmen screaming at you!
I don't think you can emulate it to the point where you'll be ready for it, you're tested as a player when you're actually in the cauldron that is the Millennium Stadium.
Still the fiercest rivalry?
England is still the most important game for Wales, definitely.
Having been a player and having sat in the stands and watched the games, the passion and the rivalry that comes with a Wales-England game does not compare with any other game Wales play.
France, Ireland, those rivalries have built but it's the ultimate challenge for a Welshman to be able to have on their CV that they were victorious over an English team.
You can talk about all the great games there have been in Welsh rugby history - and there have been many - but the ones in the top five or 10 are mainly ones where Wales were victorious over England.
I remember when I was a player and we'd beaten England, you knew that on a Monday morning every fan would go to work with a smile on his face, whether he loved his job or hated it.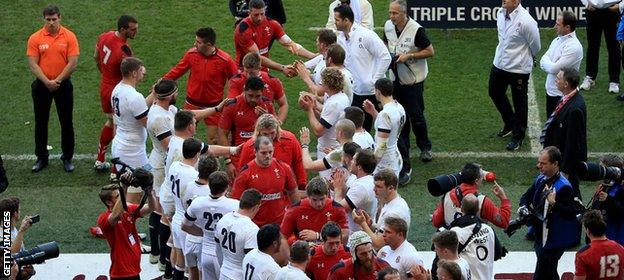 If Wales win on Friday night the fans will celebrate all weekend.
I'm going to be watching it in Cardiff Rugby Club next door, a real good friend of mine Tom Shanklin is doing a bit of a fun thing with a couple of old cronies.
Matt Dawson is going as well, I think Mike Tindall is going to turn up, so we're going to have a bit of fun between ex-England players and ex-Wales players.
The rivalry when you're on the field is so ferocious, yet through that huge respect you become good mates.
I'm now sitting down with a couple of ex-England players that a couple of years previously I was on the field trying to knock 10 bells into them, and them to me.
Title tilt and World Cup hopes
I was looking at the fixtures and each year it's either all the blue teams [France, Scotland and Italy] home or all the blue teams away.
For me the blue teams away is always a good feeling because it's when we won the Grand Slam in 2005, we did it in the same manner that this tournament lies now.
Even though it's three games away I just think that having England and Ireland home, which are the real, real tough games, suits this Welsh team.
Being on the road is always difficult but it's been done before and I believe this Wales team is one of the best teams we've had in the modern era.
There's an expectancy of winning the Six Nations now and that's a great compliment to this group of players and coaching staff.
Wales' Six Nations Fixtures:
Friday, 6 February: England (Cardiff)
Sunday, 15 February: Scotland (Murrayfield)
Saturday, 28 February: France (Paris)
Saturday, 14 March: Ireland (Cardiff)
Saturday, 21 March: Italy (Rome)
To win a Six Nations in a World Cup year gives you the right to go into the World Cup feeling extremely confident of the ability of the team you're playing in.
This year especially because of the way the pools have been drawn, where the tournament is being held, for all teams in the Six Nations it's an absolutely huge competition.
In a way I'm almost a little bit disappointed that England are struggling with some injuries, because I would love to see as a warm-up to their World Cup pool match two teams playing at full strength on Friday night.
That would be a good gauge, but... psychologically this Six Nations is going to be one of the biggest.
If Wales win or England win, they're going to be talking about and analysing those games for when the World Cup comes around.
It's really interesting for everybody... it's an important year for all teams in the Six Nations.
*Gareth Thomas was speaking to BBC Wales Sport's Bruce Pope