Six Nations 2015: Cowan backs Blake to show Scots mettle
Last updated on .From the section Rugby Union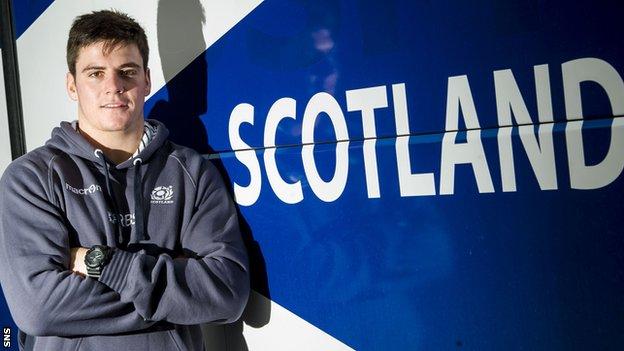 Blair Cowan believes fellow New Zealand-born forward Hugh Blake will prove himself to be as proud to represent Scotland as he is.
"I don't know all about it, but he's got Scottish heritage and he'll do anything to play for this country," said Wellington-born Cowan.
"What I've seen of him out there, I've been impressed and it looks like he's got the goods."
Tauranga-born Blake, who played for Otago in his homeland, only arrived in his Scottish grandparents' homeland in December to begin a trial with Edinburgh.
And some have questioned why the flanker has been picked by coach Vern Cotter, himself a Kiwi, for the Six Nations squad ahead of some established internationals despite not having yet made an appearance for the Pro12 club.
"Whether it is a project for the future, I'm not sure, but he's out there working as hard as he can to put his foot forward," said Cowan, whose mother is from Argyll.
Now 28 and with only six caps behind him, the London Scottish forward was a late convert to the Scottish cause, making his debut last summer.
"It took me a while to find my feet over exactly where my roots came from," he admitted.
"But, once I came here and realised the similarities in my values and the rest of it growing up, that's when I got more of a belonging to the country.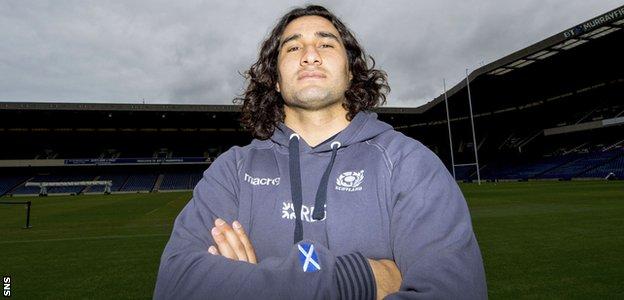 "It is kind of surreal when you come here and actually experience Scotland, but you do have that pride and it is in our blood and it is definitely in mine."
Cowan believes Cotter's own love of France, where he both played and coached before taking charge of Scotland, could be an important in Saturday's Six Nations opener in Paris.
"He has spoken about the mentality we can expect and I think that gives us a bit of an edge," said the forward.
"He knows a lot of their players individually as well and that knowledge from him definitely gives us an advantage and it's how we use it that's going to be crucial."
Cowan said there is "a positive buzz" in the Scotland camp following their displays under Cotter in the autumn tests and is optimistic about the coming campaign.
"You know, deep down, our goal is to win every game we play, to win the Six Nations," he said.
"There's no point in going out there in this competition if we didn't think it was possible.
"But, right now, where we're at, it's about one game at a time."
Cowan was the latest Scotland player to laud Cotter as a coach.
Asked what qualities his fellow Kiwi had as a coach, the forward suggested: "He is very knowledgeable about the game and carries an aura about him.
"You have to respect what he says and he is very calm and collected.
"But, if you do sense a bit of edge in his voice, the boys react and they react positively and that's a good thing. He has the balance right there."