Wales 'A' team not needed, says Allan Lewis
Last updated on .From the section Welsh Rugby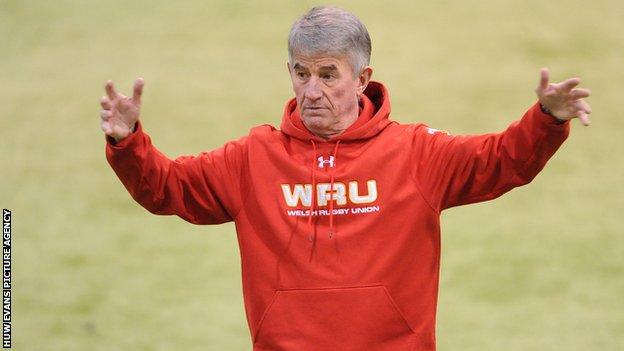 Wales Under-20 coach co-ordinator Allan Lewis does not believe there is a need for an 'A' team to be resurrected.
Lewis, one of Welsh rugby's most experienced coaches, believes Wales' age group rugby teams provide for the development needs of Welsh players.
"I'm not totally supportive of it [an 'A' team], although others could give you an argument for it," Lewis said.
"I am not sure that in Wales we've got the numbers to actually have a very productive and successful 'A' team."
The Rugby Services Agreement between the Welsh Rugby Union and the four Welsh professional regional teams, signed in August 2014, contains the provision for reviving an 'A' team.
Wales last fielded an 'A' team in February 2002 against an Ireland 'A' side. In contrast, the likes of Ireland, England and Scotland maintain second-string senior sides that play regularly.
But Lewis, who was assistant to former Wales head coach Kevin Bowring and was a selector for Bowring's successor Graham Henry between 1998 and 2001, believes that a well run Under-20s programme makes most sense for Wales.
"If we've got the Under-20s then the preparation of these players at Under-20 level, if you've got that right, the good players then can progress to professional rugby within their regions and then to senior rugby," Lewis added.
Wales Under-20s begin their Six Nations campaign on Saturday against England - the IRB Junior World Championship winners for the past two years - at Eirias Park in Colwyn Bay.
"They've been world champions the last two years and there's no doubt about it, when you talk about the Under-18s and Under-20s and the numbers that play the game and the investment... England are there with the very best in the world," Lewis said.
"The reality is that they've got far more to choose from and also the competitive nature of their rugby at that age grade.
"But because we've got less numbers we can concentrate on fewer players and I think by doing that we can produce players that are eventually rounded players, who can make the step to professional rugby and then on to Wales.
"We can put a lot more work into less players and that can be a bonus."