Six Nations: It's time for new Scottish heroes in Paris

By Tom English
BBC Scotland
Last updated on .From the section Scottish Rugby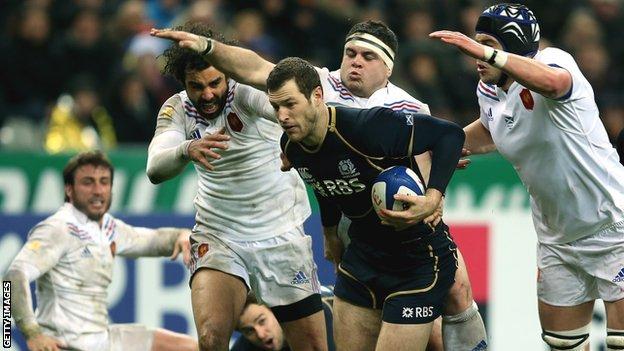 RBS Six Nations: France v Scotland
Venue:
Stade de France, Paris
Date:
Saturday 7 February
Kick-off:
17:00 GMT
Coverage:
Live on BBC TV, Radio 5 Live, BBC Radio Scotland, BBC Sport website.
Twenty-five years have passed since Scotland slow walked their way on to the pitch at Murrayfield, took one look at England and said: "Thanks for coming, but you've had a wasted journey". Or words to that effect.
A Grand Slam? The dodo bird has been sighted in Scotland more often in the time since.
Twenty years have gone by since Gregor Townsend slipped a pass out of the side pocket in Paris into the grateful hands of an onrushing Gavin Hastings - the day when the gallus ruled the Gaul. Scotland won and, lo, the Toonie Flip was born.
Sixteen years have passed since Townsend and Martin Leslie and Alan Tait scored five tries between them in the the craziest opening half an hour the Stade de France has possibly ever seen. Scotland won that one, too. Such memories of a magnificent side. Fearless, tough and top of the table at season's end.
The Scottish side was a force back then.
When we think of the national team we live in a perpetual state of nostalgia. The distant past is the only place where we can get relief from the mind-numbing failure of the last 15 championships - 75 Tests and 19 victories - a success rate of 25%.
But here's the thing. If you sit down with the young players in this Scotland squad, like Finn Russell, Mark Bennett, Alex Dunbar, Jonny Gray - and hit them with this grim stat they look at you as if you've got two heads. They almost back away, like you're talking gibberish.
They're too young to know about the failures and even if they do know, they don't care. The failures mean nothing to them.
And so you listen to their winning chat and you climb aboard the Feelgood Express and hope that you end up somewhere you haven't been before, somewhere - anywhere - other than the nowheresville that Scotland has claimed as its rugby home from home in the spring for far too long.
Scotland's Six Nations woes

19 wins from last 75 Six Nations matches

Eight wins in eight years in Six Nations

Scotland last won championship in 1999

Three Wooden Spoons since 1999
You look at Glasgow's wonderful progression under Townsend and you think, 'Why not?' You look at Vern Cotter's track record in the game and the improved performances in the autumn and you say, 'There's a chance'. Then you give yourself a slap that serves as a reminder that these Six Nations games are always brutally hard to win, especially for a team with a death-wish.
You'd need a weighty notebook to list the reasons why Scotland have been a non-entity in the Six Nations - among other things, last season the line-out was a self-defeating catastrophe - but one of the key reasons has been the sophistication of the defensive systems Scotland has come up against and their own inability to break them down, even when they've had the lion's share of the ball.
Scotland's attack has been predictable and easy to defend against. With a stand-off who's not afraid to try things and a scrum-half, Greig Laidlaw, who on his best form is as good a nine as there is in the competition, there is hope at half-back.
In the midfield there is real optimism in Dunbar, Bennett (and Matt Scott). Tommy Seymour is a fine predator on the wing. This team is capable of some heavyweight attacks.
The autumn internationals are played in peace-time as opposed to the sporting warfare that is the Six Nations. We can read too much into what happens in the autumn, but there were encouraging signs against Argentina and New Zealand that Scotland are now developing a menace in attack and a knack of making good decisions under pressure.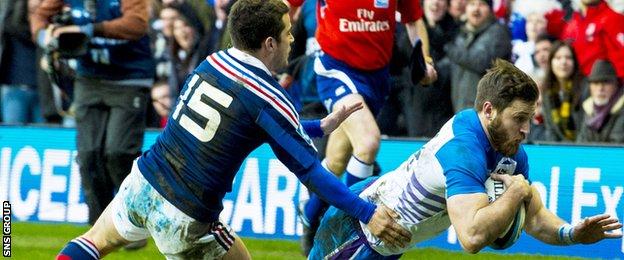 On November's evidence, the line-out has also been transformed.
So, Scotland look like they're getting better. But what are they up against? On Saturday, it's France in Paris. It might seem like a ridiculous claim on behalf of a team that has lost its last eight matches with the French, but this is an eminently winnable game so long as Scotland don't buy into the myth of Les Bleus which, to be fair, they haven't done for quite a while.
Even in the depths of misery - most notably against England and Wales - Scotland have found a way of being competitive against the French.
The last three games have seen them lose by seven points or less. By comparison, they've lost their last two to England by 20 points each time and they've lost to Wales by 48 points - the red card match for Stuart Hogg - 10 points, 14 points and 18 points.
If France are close to being as good as they can be on Saturday, then they'll win.
The fact is, though, that under the coach, Philippe Saint-Andre, they have been all over the place. He's chopped and changed his selection and has a record of 13 wins from 32 Tests.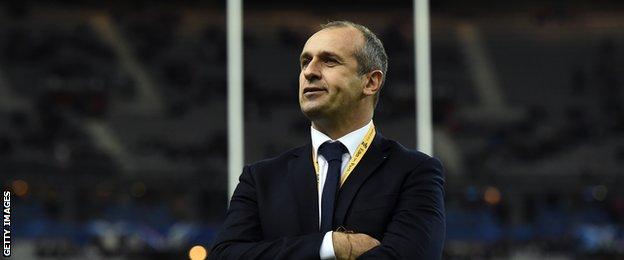 People rightly talk about their impressive autumn win over Australia as evidence of their brilliance, but a week later they lost to Argentina with 10 of the team that beat the Wallabies. France have made a fine art out inconsistency.
In the last three championships they've finished fourth, sixth and fourth - a plague on Saint-Andre's record. It's fair to say that there are former French hard men, and serial winners, who wouldn't have minded catching Saint-Andre at the bottom of a ruck these past years.
Of course, there are nuances to all of this. Toulon are the pre-eminent club side in the northern hemisphere, but they won their first European title in 2013 with only four Frenchmen in their starting team and won their second title in 2014 with only three Frenchmen in their 15.
It's not just Toulon that has parachuted in the imports. Of the top-10 try-scorers in the championship last season only one of them was French. Currently, of the top-16 try-scorers only three are French. There are truckloads of class players in France but their progress is being stifled by big-name foreign recruits.
Scotland's Six Nations fixtures
7 Feb:
France v Scotland, 17:00 GMT
15 Feb:
Scotland v Wales, 15:00 GMT
28 Feb:
Scotland v Italy, 14:30 GMT
14 Mar:
England v Scotland, 17:00 GMT
21 Mar:
Scotland v Ireland, 14:30 GMT
Your heart doesn't exactly bleed for Saint-Andre, but it's an issue, no question.
Saint-Andre's team could become electrifying at any moment, of course. They've picked a team that looks the part. Certainly, there will be an emotional dimension to the day given that the coach has already spoken about the recent terrorism attacks in Paris and how good it will be to come together as a nation once more, united under the Tricolor.
That's what lends the Six Nations such an intoxicating air. In week two, Scotland play Wales at Murrayfield. Scotland have lost seven in a row against Wales. In week three it's the trip to Twickenham. Scotland haven't won there in more than 30 years. In week four it's Italy and week five, Ireland, who could be going for a championship, at Murrayfield on the final day.
The word they all use is momentum. If you get it in week one, you're laughing. If you don't, you're struggling. No coach will admit to seeing past that first weekend and Cotter is among them.
France at the Stade? One day, when those words are mentioned, the first images that come into the mind's eye will not be Townsend's pass, but something altogether more modern.
This is the great opportunity. Scepticism tells us that the thing on the horizon is a false dawn rather than a rising sun, but this is the remarkable thing about the Six Nations and the inspirational thing about the Scottish rugby public. Things have been grimmer than grim for so long, but despite everything, the hope remains.
The Flower of Scotland is a hardy perennial.