Launceston boss Neil Bayliss 'not considering' relegation
Last updated on .From the section English Rugby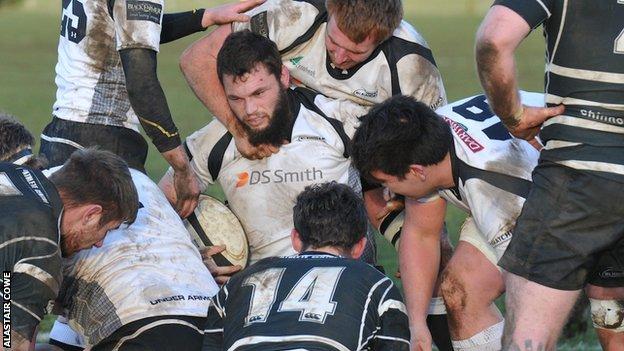 Launceston boss Neil Bayliss says his side are not considering the possibility of being relegated.
The Cornish All Blacks have not won any of their last three games, and Chinnor and
But they are still 13 points above the drop zone ahead of Saturday's game against struggling Lydney.
"It's too early to even talk about relegation, the league's that tight this year," Bayliss said.
"We're not even considering relegation, a few wins and we're back in the top half of the table," he told BBC Radio Cornwall.
Bayliss admitted his side are in need of a rest after three successive games against top four sides.
"January's always a tough month, we've had a particularly tough month playing the top sides within three weeks, and that certainly showed (against Chinnoor) on Saturday, with the boys out on the field.
"The boys have been putting in shifts for 80 minutes every week and we've got a lot of tired bodies in the squad at the moment," he said.
"We have the added pressure that we've picked up injuries, but again it's this time of the season and you expect to pick up injuries - but we've picked up a few more than we'd have liked."