Wales v England: What does result mean for 2015 World Cup?
Last updated on .From the section Rugby Union
England's 21-16 Six Nations victory over Wales in Cardiff is a "massive boost" for Stuart Lancaster's side, according to World Cup winner Matt Dawson.
As for Lancaster's opposite number Warren Gatland, it appears he has work to do, with Wales and England due to do battle again in the pool stages of the World Cup, which starts in September.
Sir Clive Woodward, who coached England to their 2003 World Cup win, and former Wales internationals Jonathan Davies and Robert Jones also had their say on what amounted to more than just the opening skirmish of another Six Nations tournament on the BBC.
How big a win is this for England?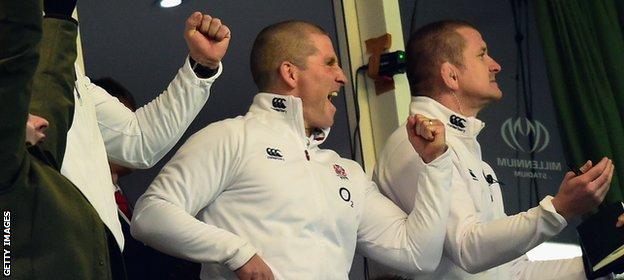 Sir Clive Woodward: "It was thoroughly deserved. England could have afforded to lose this game as they are going in the right direction but to win at Wales and play so well? You can't put a price on that.
"There has been a lot of changes to the team but now a lot of names are inked in. The back line is starting to take real shape and you have a continuity of selection. Then you get momentum. England have every chance at the World Cup. All our big games are at Twickenham. We have quality players and a good coaching set-up. It is a very happy day."
Matt Dawson: "How many times have we spoken or heard about the long-term effects of who wins this game going in to the World Cup? You cannot tell me that doesn't give the England team a bit of a leg-up for both the rest of the Six Nations and going in to that tournament later in the year. This is a massive boost."
What was the key to victory?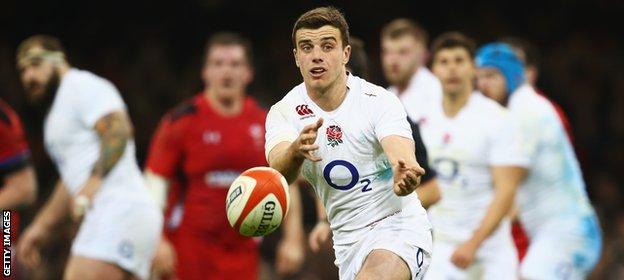 Matt Dawson: "In the first half, Wales were throwing men in and slowing the ball down and England couldn't get any momentum. England were completely different in the second half and were quite happy to let Wales have the ball, to string their white shirts right across the field and see if Wales could break through that wall. It takes enormous confidence in a defensive system but Wales didn't have the strategy to break that down.
"George Ford orchestrated things really well. A couple of kicks were charged down in the first half but that didn't disrupt him at all. His mind looked crystal clear at set-piece play. Not only is he distributing and putting other people in, he is quite a threat himself. Wales ran at him. They wanted to have a go and he stood up and made tackles."
Sir Clive Woodward: "George Ford played really well but there are a lot of heroes out there. Chris Robshaw is an outstanding player and captain. He was fantastic and outplayed Sam Warburton, the Wales captain. Robshaw is in the team on merit and is captain on merit."
How big a blow is this for Wales?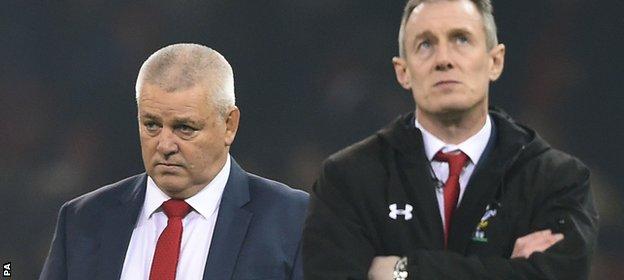 Rob Jones: "It's a big loss for Wales in terms of the World Cup. Everyone knows full well that England are a better side than what we saw today. There will be a lot of players coming back and who will be in better shape come the World Cup. Wales were at full-strength tonight. How much can they improve? If they are going to do well on the world stage, they are going to have to change their way. They have to have options.
"They will be a very disappointed rugby nation and a very disappointed dressing room. Had Wales won, it would have almost been expected because of England's injury crisis. I don't think it's back to the drawing board, but certainly Wales will be licking their wounds."
Jonathan Davies: "It's a big loss for Wales in terms of the World Cup. They were totally outplayed. There was nothing, no Plan B as usual."
Where did it go wrong for Wales?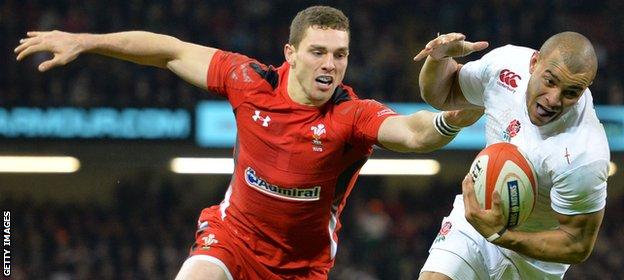 Jonathan Davies: "We knew England would come and kick a lot but you didn't see any counter-attack. If Wales don't penetrate the game line there is no alternative. We didn't go wide. The talk was George North and Jamie Roberts going down George Ford's channel but that was non-existent. I couldn't see how Wales were going to win with 20 minutes to go. They had no possession, they didn't carry the ball and England dominated field position. England bullied them in defence."
Matt Dawson: "I don't think Wales felt comfortable with all the razzmatazz and England stood up to the challenge on a night where neither side really knew what to expect from each other. Wales were 10-0 up in eight or nine minutes. They were in control on the scoreboard, but as soon as England got it in their mind to play a different style of rugby and in different areas, Wales couldn't seem to cope."
Rob Jones: "I think George North is going to struggle to make the next match. He wasn't in the game at all, he was poor. I think Samson Lee, at tight-head prop, didn't look right throughout and the scrum was under a bit of pressure. We had no spark in behind at all. Jamie Roberts didn't make an impact. He didn't get as involved as he should do."