Wales v England: What we learned from Six Nations opener

By Tom Fordyce
Chief sports writer
Last updated on .From the section Rugby Union458
It was, according to World Cup-winning coach Sir Clive Woodward, the biggest opening fixture in the history of the Six Nations - but what did Friday's epic between Wales and England actually mean when the dust and debris settled?
Are Stuart Lancaster's side gaining real momentum in World Cup year? Has Wales' defeat exposed them as one-dimensional and lacking strength in depth? And does this result really mean much in the longer term, bar a night of glory for the victors?
Here are the five key questions from England's famous five-point win:
The best win of Lancaster's England regime?
The established wisdom is that England's 38-21 hammering of New Zealand in the autumn of 2012 remains the outstanding performance under coach Stuart Lancaster: the reigning world champions beaten by a record-breaking margin, having gone unbeaten in 20 matches; England fielding fewer international caps between them that November day than the opposition front row.
It was only England's seventh win over the All Blacks in history, whereas Friday night was England's 58th over Wales. Only once in 498 Tests had New Zealand been beaten by a bigger margin.
So why does a mere five-point win in Cardiff feel arguably more impressive?
Put it down partly to injuries and inexperience. England had five players making their first starts in the Six Nations. Five of the back division began with 11 caps or fewer. They leant on a centre pairing that have never played together before, a pair of second rows who had never played in Cardiff and a 21-year-old fly-half so callow that he watched the corresponding fixture two years ago from his parents' sofa.
There is precedent: having won only one of their last six matches in Cardiff, never before having beaten Wales in Cardiff after being behind at half-time, only once before coming from eight points down to win a Test match anywhere in the world.
Then there is character. At no point in that New Zealand display had England ever trailed. They had been 12-0 up at half-time and then 15-0 in front shortly afterwards.
Here in Cardiff they were 10-0 down after seven minutes and still further behind at half-time than they had been in the record 30-3 humiliation at the Millennium Stadium in 2013. They were struggling at the breakdown, giving away daft penalties and doing it all into a wall of Welsh noise.
To come out and not only score 13 unanswered points in the second half but to gradually assert such control that they could easily have added 15 more showed a character and class that not all believed they possessed. The celebrations at the end told their own tale.
Have injuries actually helped England?

Courtney Lawes. Joe Launchbury. Tom Wood. Ben Morgan, Manu Tuilagi and Brad Barritt. All would have started on Friday if fit, their absence supposedly a critical blow to England's hopes.
Instead, with their raw replacements sparkling through the Cardiff sturm und drang, Lancaster's crisis has become his comfort.
With the World Cup less than six months away, the head coach finds himself with a strength in depth that perhaps only the All Blacks among rugby's superpowers can match.
In almost every position in the team he has at least two alluring options. He could pick an entirely alternative pack (Wilson, Youngs, Corbisiero; Lawes, Launchbury; Croft, Wood, Morgan) and still start with a spring in his step.
Areas that were problems only a few months ago are now looking like headaches for a different reason.
Could you drop James Haskell for usual blind-side incumbent Tom Wood after the Wasps' captain's display on Friday? Who makes room in midfield when Tuilagi is finally fit? How to choose between Billy Vunipola and Morgan as a ball-carrying battering-ram at number eight?
These are the type of dilemmas that a coach in World Cup year longs to have. Without such a lengthy casualty list, Lancaster would never have known.
Tom Fordyce's man of the match
James Haskell.
Seldom a regular, often easy to mock for his off-pitch activities and attitude, Haskell had by far his best game in an England jersey - relentless energy, punching runs, constant confidence.
What now for Wales?
There is a danger in drawing too much from a single result. Four years ago England won in Cardiff and won again in each of their next three matches to set up a tilt at the Grand Slam, only to be dismembered in Dublin and stink out the World Cup that autumn. Wales, meanwhile - after that loss in 2011 on a run of just two wins from their last 14 games - were a well-struck penalty away from the World Cup final and won their own Slam in sweet style the following spring.
Despite that comforting precedent coach Warren Gatland's glum face as midnight approached on Friday was for good reason. After that blistering start Wales looked increasingly one-dimensional as England turned the contest on its head: predictable in attack, struggling at the set-piece, sent backwards in defence by the opposition's relentless ball-carriers.
Leigh Halfpenny, as always, was faultless under the high ball. What the rest of his back line failed to do was counter-attack with verve or violence when England, as expected, kicked deep.
Jamie Roberts struggled to make his usual muscular impact. Rhys Webb kicked poorly from hand. Three Welsh defenders were fooled by Jonathan Joseph for his critical second-half try. Richard Hibbard wobbled at the line-out while his entire front row struggled for parity at the scrum.
Gatland made clear his displeasure with some of the breakdown calls of referee Jerome Garces. He will also remember that a similarly chastening opening day home defeat to Ireland two years ago was superseded by four big wins on the bounce and the trousering of the championship.
Equally he will wonder where the transformation can come from this time around. This was his first choice team, packed with British Lions and gifted the perfect early platform from which to go on to dominate.
Instead, the longer the game went on, the greater disparity between the two sides. England looked fitter and faster. Their replacements made a greater impact. Troubling times indeed.
Hype vs history?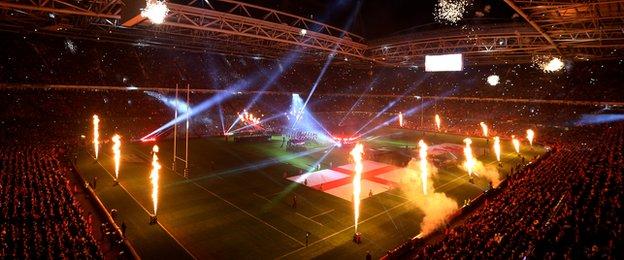 Where once stood male voice choirs in v-necked lambswool jumpers and neatly trimmed moustaches, the Millennium Stadium pitch pre-match resembled a cross between a Vegas world title fight, the final of a television talent show and a regional nightclub at midnight on New Year's Eve.
Dancing lasers, jets of flame, clattering dance anthems. You would term it hubris, except the rugby afterwards more than matched the thunder of the build-up.
Which might be exactly the point. If there is one sporting fixture guaranteed to bring its own mighty noise it is Wales v England in Cardiff.
There have been 125 matches stretching back beyond a century. None have ever noticeably suffered for a lack of atmosphere.
Sure enough, the teams this time had a stand-off in the tunnel and tore into each other from kick-off. The 73,500 in the crowd were silenced only by England's gradual stranglehold on the match.
Sport must always move with its times, never assume its appeal remains constant through the generations. It must also strike a balance between hysteria and history.
One of the dance tracks chosen by DJ Spoony, Wales' MC of choice, featured a loud and repeated sample from Martin Luther King's "I Have a Dream' speech - stirring, of course, and equally entirely inappropriate.
What does it mean for the World Cup?
According to Lancaster late on the night, focused simply on a grand win from a young team, not a great deal. The lessons of 2011 would appear to back that up: this result is about the Six Nations, not September.
Wales are scarcely scared of Twickenham, where the two sides meet again in the opening fixture of this autumn's tournament. They won there handsomely in 2008 and 2012. Their key men have won unlikely away wins with the Lions in the hostile environments of South Africa and Australia.
What this win does give England is fresh momentum and precious confidence. After a 2014 in which they lost as many games as they won, in which their development as a team appeared to have stalled after four consecutive defeats to New Zealand over summer and autumn and a subsequent defeat to South Africa, they have now won three on the trot in increasingly impressive style and with three home fixtures in their next four.
Comeback kids
England's win in Cardiff was only the third time in the last 16 Six Nations meetings between the two teams that the team trailing at half-time has gone on to win.
The other occasions were Wales' comebacks at Twickenham in 2008, whenthey won 26-19 after trailing 16-6,and 2012,when they recovered from 9-6 down to win 19-12.
A year ago, faced with a similar scenario in their Six Nations opener in Paris, they turned a 16-3 deficit after 20-odd minutes into a 24-19 lead with just four minutes remaining, only to concede the critical score at the death.
This time, once in front, they never looked like ceding control. Winning a World Cup takes many things, but being able to problem-solve in a hostile environment is not a bad way to start.
Two months in camp over the summer with players protected from the stramash of Premiership and European rugby should also cut their casualty list. By contrast, the concern for Gatland is that alternatives are thin on the ground.
He was confident enough in this XV that he named it four days in advance. In part that was because it picked itself.
Who is there to come in to revitalise the team as Jonathan Davies and Rhys Priestland did four years ago? Can a coaching team that has had such success find a fresh tactical answer in the months that remain? He has time. But he also has hefty headaches.