Six Nations: Improved Scotland bludgeoned by France

By Tom English
BBC Scotland in Paris
Last updated on .From the section Scottish Rugby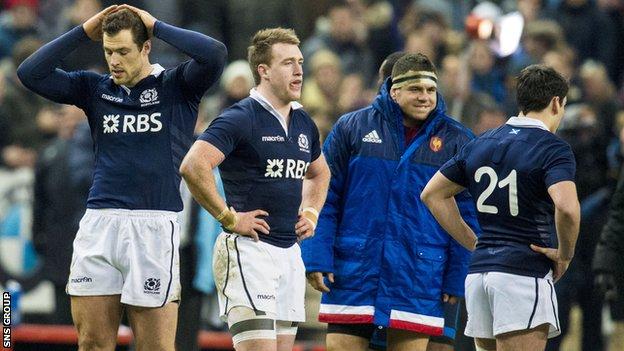 It's strange how Stade de France can metamorphose in the space of a few hours.
You arrive in sunshine and optimism, people are smiling and welcoming. It's the start of the Six Nations and everybody has their happy head on and yet, a few hours later, it's a very different place.
The weather has turned an Arctic cold. The rush to get away from the stadium is like something from the Keystone Cops. Police sirens fill the air and add to the chaos. And nobody is smiling anymore.
The French were in no mood to celebrate for theirs was a functional try-less 15-8 victory that will have done nothing to fire the imagination of the supporters and make them believe that the coach, Philippe Saint-Andre, is the solution when it's pretty evident that he's not.
The Scots had the comfort of watching a brave performance laced with quality, but there was a weariness that came with it.
You can highlight all the positives and cheer yourself with the certainty that things are getting significantly better under Vern Cotter, but the bottom line was that Scotland lost their opening match of the Six Nations for the ninth year in a row.
And against who? A French team who man-for-man looked to have all the attributes of an outstanding side but who, collectively, had about as much subtlety as a firm kick in the unmentionables from Alain Esteve or Laurent Rodriguez or any other one of their storied hard men of the past.
It was strange stuff. The French bludgeon against the Scottish rapier. The flair of the visitors and the endless - but ultimately successful - plodding of the hosts. Much of the attacking variety and risk-taking came from Scotland.
Who saw that coming? Finn Russell, Stuart Hogg and Mark Bennett played beautifully whereas we only see fleeting evidence of the creative brilliance of Wesley Fofana and Teddy Thomas.
Had Hogg's outrageous 27th minute dummy resulted in a try - and it was close - then it would have joined the 'Toonie Flip' of 1995 in the pantheon of Scotland's delicious memories of Paris. It didn't. Another what-might-have-been.
This is a brutally hard championship where the margins between victory and defeat are miniscule. Dougie Fife loses his head and gives away a penalty and concedes three points. Russell gets his radar all wrong and fails to convert a simple drop-goal in front of the posts. Greig Laidlaw's conversion slaps off an upright and stays out.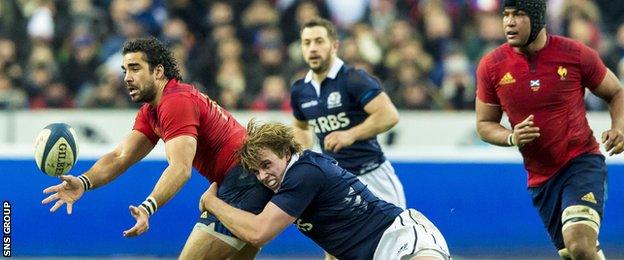 It's cruel that Scotland can play with such lung-busting defiance and such remarkable discipline and keep France scoreless while Johnnie Beattie was in the bin and yet lose points to a hot-headed moment or a marginal lack of accuracy. But that's the Six Nations in all its terrible beauty.
The list of upbeat moments is long. The marvellously constructed try. The defensive work of Bennett and his midfield partner, Alex Dunbar. The aggression and desperation in repelling the French time and again in the second half even when you might have bet your house on them breaking.
Even in the last minutes there was ambition from Russell to try and make things happen. It was uplifting to see a Scotland team trying to play with such verve.
It would be stretching things to say that Scotland left victory behind them. They didn't. No side that is forced to defend - and defend heroically - in the face of relentless French forward drives throughout the second half can legitimately claim to have blown it.
Cotter's team didn't score a point in the second 40 minutes.
They are already ruing their penalty count, a millstone around their neck for so long. They conceded 12 to France's eight.
Twelve is at least two too many, but what are you to do when France are launching one driving maul after another? The hosts didn't have the wit to unlock Scotland's defence through their back-line, but their forward power got the job done.
Coaches talk about the importance of momentum in this championship, but Scotland have not been a part of that conversation for the longest time.
They are once again plunged into a game of catch-up, looking to turn over a hurting Wales at Murrayfield on Sunday to give themselves some relief from a record that now shows just eight wins in the 41 Six Nations matches dating back to 2006, the last time Scotland began the championship with a victory.
The despondency of defeat will give way to a new hope, though. Scotland are on the right track and there are signs that their relevance in this championship can soon be elevated beyond the grim battle for fifth and sixth place, the doldrums they have existed in for much of the history of the Six Nations.
Change will be made for Wales on Sunday. Euan Murray is unavailable so Geoff Cross will surely get the nod. There will be concerns for Tommy Seymour, who left the action early with a hip problem, and also for Tim Visser, who looked a hesitant presence on the left wing.
Cotter is not exactly blessed with other options out wide. With Sean Maitland injured, he has Dougie Fife and Sean Lamont and that's about it.
What is becoming obvious now is that Cotter's players have utterly bought into his way of thinking. He tells them to play heads-up rugby and that is what they're doing and there is a comfort in that and an optimism that this new mindset is going to bring a new reality sooner rather than later.
No longer can Scotland be considered a soft-touch, a whipping boy for the Six Nations elite. They didn't win a match in Paris, but unquestionably they won respect.