Wales avoid sanctions over George North head injury
Last updated on .From the section Welsh Rugby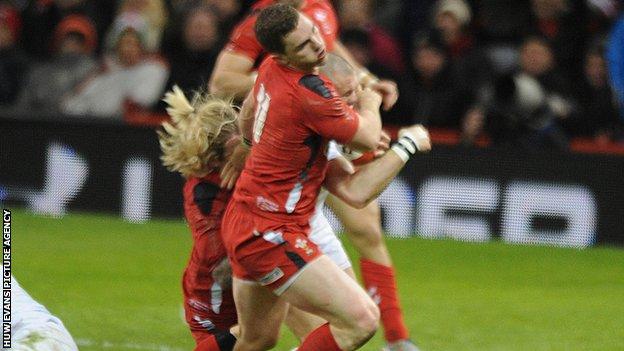 Wales will not face sanctions after wing George North remained on the field following a second blow to the head in the 21-16 loss to England.
World Rugby - the sport's governing body - says North should not have played on after TV replays appeared to show him being knocked unconscious in the 61st minute.
However, it accepts the Wales team medical staff did not see the incident.
World Rugby will also investigate using TV technology to assist medical teams.
North was taken off the field after receiving an accidental kick to the head in the first half of the opening match in the 2015 Six Nations championship, but allowed back on after eight minutes following medical tests.
But the fact he carried on to the end of the game following the second blow prompted World Rugby to ask the Welsh Rugby Union (WRU) to explain their treatment of the player.
Wales medical manager Prav Mathema said on Monday they accepted North should have been taken off after the second blow, but that none of the medical team had seen the incident at the time and did not have access to video replays.
A spokesman for World Rugby confirmed they had the power to impose sanctions, but felt they WRU's explanation meant they were not appropriate.
The governing body's written statement said the Wales medical team's handling of the first incident "followed the correct protocols" and acknowledged a lack of video replays meant they missed the second incident.
It added: "World Rugby accepts the WRU's explanation that neither the team medical staff nor the independent doctor had sight of the incident and understands that the medics acted within the framework of information they had at the time and would have taken a different course of action had they had direct pitch-side visibility or access to the same broadcast footage seen by those watching on television."
The governing body - formerly known as the International Rugby Board - said that as a result of the incident it was investigating ways of improving the monitoring of players during a game.
These could include providing video feeds to medical teams; using independent medical staff to monitor injuries and using television match official technology to identify head injuries "as they happen on the field".
The Welsh Rugby Union said on Monday it would introduce video feeds for medical staff with immediate effect.
North has not been ruled out of Wales' next Six Nations match with Scotland on Sunday, 15 February.
Medical manager Mathema said on Monday: "Today he has been evaluated and he has shown no signs of any concussion and, because of that, he's started his return-to-play protocol already and there's been no issues.
"He has to go through that process for the rest of the week, having a step-by-step increase in his activity."
The Wales team to play Scotland will be announced at 11:00 GMT on Wednesday, 11 February.