Rugby concussion: reported cases rise by 59% in a year
By Chris Jones
BBC Radio 5 live
Last updated on .From the section English Rugby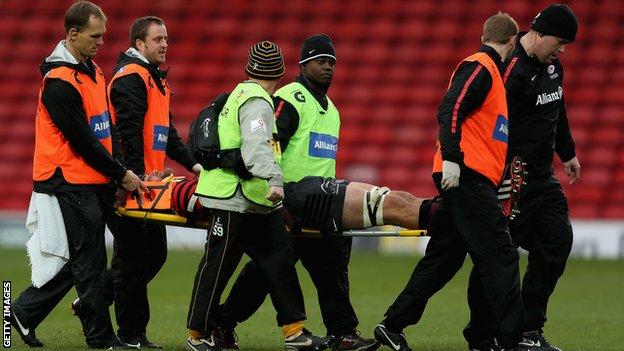 The number of reported concussions in English rugby rose by 59% in 2013-14 compared to the previous season, the latest annual injury audit has shown.
The audit recorded 86 cases in 2013-14 after 54 the season before.
Rugby's governing bodies believe the increase is because of improved understanding of head injuries.
Concussion in rugby was highlighted this week after George North continued to play on for Wales against England after appearing to be knocked out.
"There is greater awareness by players as to what their symptoms mean and a willingness to declare those symptoms to club doctors," Dr Simon Kemp, the Rugby Football Union's chief medical officer, told BBC Sport.
"There is also a greater understanding by club medical staff as to how to diagnose and recognise concussion."
Wales winger North, 22, appeared to be unconscious after clashing heads with team-mate Richard Hibbard in Cardiff.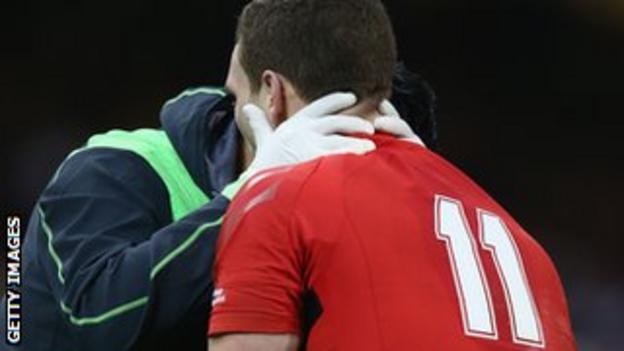 Coach Warren Gatland last week defended his medical staff after the sport's governing body World Rugby asked the Welsh Rugby Union for an explanation as to why North was allowed to continue.
World Rugby has since said it will look into the use of video replays to assist medical staff.
English Rugby's audit - titled the England Professional Rugby Injury Surveillance Project Report - found concussion to be the most common rugby injury for a third successive season.
"It is still the minority of players who report a concussion," Kemp said. "It is important to keep the size of the concussion problem in context."
In October, English Rugby introduced an online concussion awareness module for all coaches, officials and players.
"We asked all our professional players, coaches and referees in the top two leagues to do an education module and 1,469 of them did it - the whole target population," Kemp said.

Rugby injuries - in numbers
Of the 585 players included in the study, 13% experienced concussion during the 2013-14 season, with concussion constituting one eighth of all match injuries.
The time taken for a player to recover from injury has marginally increased to an average of 26 days.
Last season, 23players retired prematurely from the game because of injury.
The overall risk of match and training injury in the Premiership remained stable during the 2013-14 season

"We'll be looking to build on that knowledge next season and also make sure new joiners are exposed to the same level of understanding."
Kemp also revealed two studies will be released in the next two months, one looking at concussion over the last two seasons, the other assessing the health of former England internationals - a similar project to the one launched by the Scottish Rugby Union in September.
"One of the great areas to explore is the health of players once they retire," Kemp said.
"We are doing the study with Oxford University - in an age range from early 20s to 85 - which will be a first step into looking at the link between playing rugby and any neurodegenerative disorder."
Dr Willie Stewart, consultant neuropathologist at Southern General Hospital in Glasgow, welcomed the audit by English Rugby but said there were still concerns.
"Even before this year's sudden leap up in numbers, the numbers have been rising in concussion year on year on year," he told BBC Radio 5 live.
"What it means to me is that something really needs to be done to start reducing the rate of injury.
"We can't really accept this level of injury in sport. It's unacceptable."