London Irish: Coach Tom Coventry excited by Exiles ambition
Last updated on .From the section Rugby Union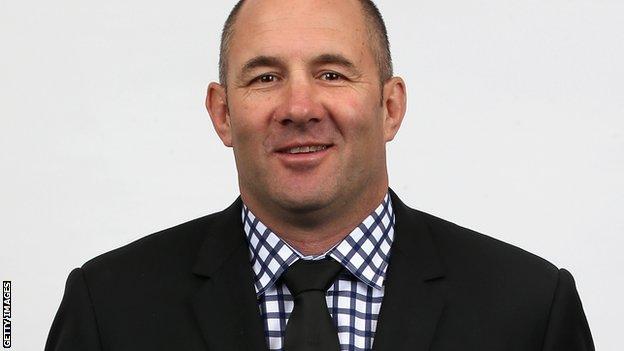 Incoming London Irish head coach Tom Coventry says the club's lowly league position was part of the attraction for him taking the role.
Coventry, who will join next season, said helping the Exiles develop was a challenge he will relish.
"The fact that they are ambitious and want to be better than they are is exciting," he told BBC Radio Berkshire.
"I'd rather be involved with a club that's underachieving and work together to a collective goal to be better."
Coventry made his reputation in New Zealand rugby with his achievements at Hawke's Bay, and the 49-year-old said he can see several similarities between the club he guided to ITM Cup success in 2011 and the Exiles.
"It was a province crying out for a higher standard of rugby," said Coventry, who is currently assistant coach with Super Rugby side Chiefs in New Zealand, as well as having a role as co-head coach of Samoa.
Tom Coventry on...

...his coaching style:

"I certainly don't coach the way I was coached. I came out of the 1980s and 90s when it was pretty dictatorial but if you coach like that now, you don't get too far."

...Chiefs superstar Sonny-Bill Williams:

"Having guys like Sonny-Bill in the squad adds a real competitive edge. He's a super athlete and he sets a really good example for the younger boys."

...discipline:

"I'm not the type to throw teacups around but if there's the need for the coach to jump up and down and let people know he's not happy then that's something I can do."

...Samoa's off the field struggles:

"Things are a bit tough at the moment,

it's going through a bit of turmoil with the rugby union and the politics that go on with Samoan rugby union so that's not so good."
"They'd been second-division bullies for a long time but they hadn't been able to make the step up so there's lots of parallels.
"It was a very passionate union, and I'm going to a very passionate club with people who are really motivated about making change. There are similar characteristics to London Irish with new owners and a new board."
The timing of this year's World Cup means Coventry may miss the start of the next Premiership season and he conceded the next few months will be a "juggling act".
"It's unfortunate that the start of the season overlaps," said Coventry, who succeeds Brian Smith at the Exiles.
"Ideally I want to be stuck in from day one, but we'll see how it goes. It's problematic with the start dates but hopefully we can fit it all together and some of the people who are helping me can get stuck in.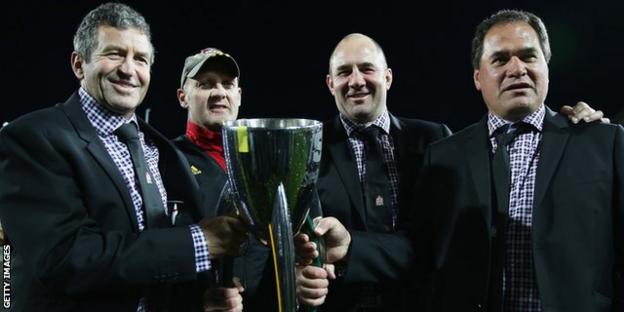 "There will be opportunities for me to get to England to get involved and sit down with the people who are going to be a bit more hands on than I am to start with."
London Irish have announced several new signings for next season, with Scotland winger Sean Maitland, New Zealand prop Ben Franks, Waratahs scrum-half Brendan McKibbin and Northampton centre Dominic Waldouck all joining the club.
"The progress with signings is pretty good and I'm happy with what the club's doing with recruitment," said Coventry, who had a previous spell in British rugby with Scottish side Stirling County.
"They're working hard behind the scenes to add to the squad and keeping the boys who are doing well. It's a bit of a web at this time of year, and there's a lot of change after a World Cup. Hopefully London Irish can pick up some gems."
--------------------------------
Analysis - BBC Radio Berkshire's Chris Egerton:
"Coventry comes from the same mould as Warren Gatland and Joe Schmidt. While he is involved in his last Super Rugby season with the Chiefs, his prior experience with Hawke's Bay may prove just as relevant. Taking one of New Zealand's smaller sides to three ITM Cup semi finals against the likes of Canterbury, Auckland and his native Waikato is some achievement. Coventry says London Irish's lowly Premiership position was an attraction and Exiles supporters will hope for similar success."
--------------------------------
One of the players Coventry coaches at the Chiefs is highly-rated lock Matt Symons, who was born in England but moved to New Zealand, and the Exiles have been linked with a move for the 24-year-old.
"Matt's got to make a decision about whether he plays for England or he's nearly qualified for New Zealand on residency," he said.
"He's lucky enough to have choices but I think his desire is to play for England if there was an opportunity to do that. So there's a strong chance that you'll see him back in England pushing his case for Test selection.
"He has plenty of courters but I know London Irish were pretty keen on getting his services so we'll see how things pan out."