Six Nations 2015: Scotland must take hope from Wales defeat

By Tom English
BBC Scotland at Murrayfield
Last updated on .From the section Scottish Rugby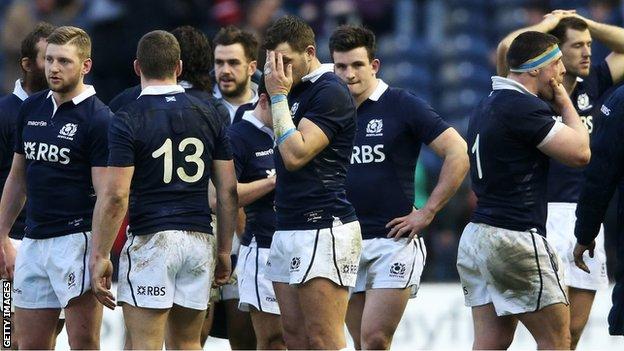 For composure under pressure, Vern Cotter's performance at the top table was as cold-blooded as anything that happened on the pitch at Murrayfield.
Time and again the Scotland coach was asked about the shambolic display of the officials in this frenetic Six Nations match, and time and again he gave his questioner the dead-eye.
His team broke, but Cotter did not. He refused to bury referee Glen Jackson and his colleagues, even if his demeanour told you that he desperately wanted to.
Nobody does deadpan quite like Cotter. If he possesses the Kiwi equivalent of a hair-dryer then you'd rather feel its force than be caught in the cross-hairs of his stare and his silence.
When asked if he intended to protest to the tournament organisers about the myriad controversies and inconsistencies in their running of this Test, he paused and said he would "send something through that will help them".
He said it in the manner of a mafia don making somebody an offer they couldn't refuse, the only difference being that there was more of a sense of foreboding in Cotter's voice.
The gripes? How long have you got? Jackson ended the match four seconds early, denying Scotland a chance, albeit an improbable one, to pull a victory from the fire.
He continually penalised Wales in their own 22 late on without issuing a yellow card, despite threatening the serial offenders that he might.
He didn't go to the TMO for a 74th minute disallowed try for Mark Bennett - a critical moment - and didn't go to the TMO for a 40th minute stab at the line by Greig Laidlaw.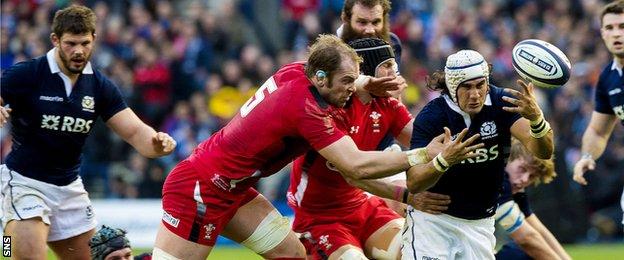 The Scottish captain struggled to keep a lid on his frustration, occasionally threatening to blow a gasket but gathering himself in time to come across as diplomatic.
Some of the penalties Jackson dished out to Wales - a mountainous 17 - were bewildering.
As the victor, Wales coach Warren Gatland wasn't inclined to put the boot in, but, among other things, he felt slightly aggrieved about the yellow card handed out to Finn Russell - he thought it might have been red - while accepting that he was seeing the moment through a prism of red rather than blue.
The verbal shoeing that Gatland received in the wake of the dispiriting loss to England on opening night was a gross over-reaction that ignored the man's extraordinary track record as Welsh coach and his capacity to turn bad situations into good.
Match stats

Scotland

Wales

47%

Possession

53%

49%

Territory

51%

4 (1)

Scrums won (lost)

4 (0)

11 (2)

Line-outs won (lost)

8 (3)

13

Pens conceded

17

73 (5)

Rucks/mauls won (lost)

85 (5)

27

Possession kicked

30

120 (9)

Tackles made (missed)

110 (13)

395

Metres made

443

6

Offloads

6

5

Line breaks

5

Provided by Accenture
Gatland's team won narrowly but they deserved it. They are a team that is still finding its feet, but they came here and got a job done against a Scotland side that is developing, but not developing fast enough to make an impression on this championship.
Scotland now have a threat in attack that is worthy of the name. Their opening try was the kind of one-phase opportunism that has been beyond them for so long. It came from the brilliance of Stuart Hogg, who carried and carried and carried again while banishing the red-card demons of 12 months ago.
Some of their stuff at the breakdown was thunderously excellent. The set-piece was dependable, the driven line-out a constant menace. Scotland had Wales's line-out in trouble at times, a seismic improvement on a year ago.
You can list the signs of progress until the cows come home. Two defeats, yes, but both by a converted try or less and a different planet from the soft touches of previous seasons. Both Gatland and his captain, Sam Warburton, said that this was the best Scottish team they have faced.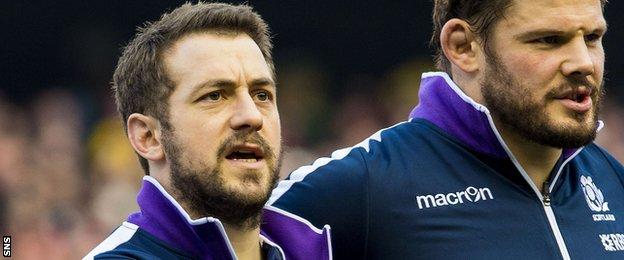 It was heartfelt praise, but the metaphorical pat on the back was never going to serve as a balm to Scottish wounds.
The signs of progress are unmissable, but the bottom line remains the same. Cotter is left to wring out the positives in the wake of another defeat, the eighth in a row to Wales.
He's also left trapped in the rugby purgatory reserved for coaches who watch their team create enough chances to win a game and yet end up losing it.
They talk of fine margins and they are right. Had Mark Bennett let an Alex Dunbar pass drift by him to its intended target, Sean Lamont, Scotland might have scored a second try five minutes after scoring their first. Bennett reached out a paw and lost control of the ball. And the chance was gone.
Had they executed while camped on the Welsh line at the end of the first half then the narrative might have been different.
Had they been more clinical when rumbling through the phases under the Welsh sticks just after the hour-mark then the story might have been different.
If the referee had got that yellow card out.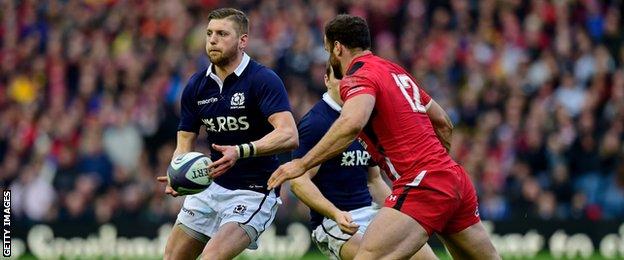 The maddening land of ifs.
Of course, Wales could play this game just as readily, but winners don't have to. Scotland, meanwhile, are beginning to rewrite the script of rugby 'what-might-have-beens'.
This is the torturous journey that Cotter's team must endure before they start to win. Only when they start winning matches of this import, instead of persecuting themselves with the reasons why they lost, can you buy into the notion that they will be contenders instead of promising wannabes.
It's going to be a long and brutal road out of Nowheresville, the nowhere town that this team has been residing in for much of the past 15 years.
At least, they're pulling out of there now. They can still see the place in their rear-view mirror but they're moving in the right direction. There is hope for the future. Maybe not the victories they crave, but the comfort of knowing that they're getting better.
Upon those crumbs they must feast.