Plymouth Albion: Top players set to leave in the summer
Last updated on .From the section Rugby Union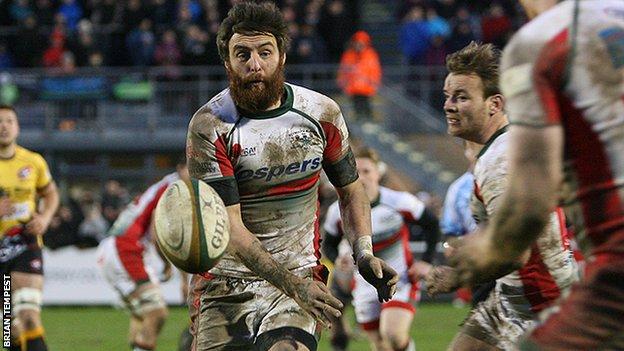 Plymouth Albion could lose some of their best players, even if they retain their Championship status, according to head coach James Shanahan.
Bottom-of-the-table Albion are seven points from safety in the Championship.
"Some of our best players have already been approached by various clubs in the Championship, but there's nothing I can do about it," Shanahan told BBC Devon.
"We'll probably lose five or six players that we maybe would have wanted to keep if we stay up."
Albion's financial troubles
April 2010:
Club launches an appeal to raise £100,000 to avoid the need to go into administration
January 2012:
Albion raise further money to avoid administration after they part with head coach Pete Drewett as they could not afford his wages
January 2015:
Albion find £250,000 to keep them solvent until the end of the season after announcing intention to appoint an administrator
Albion won their first league match last month when they beat relegation rivals Moseley 19-18 - their first win in the league since 8 March the previous year.
Since then they have also beaten Rotherham, as well as drawing 12-12 with third-placed London Scottish and narrowly losing to fourth-placed Nottingham.
The club have funds until the end of the season after but Shanahan warns that if Albion do go down, they many not be in a position to repeat what Doncaster did last season and bounce straight back up.
"Potentially it's a million-pound loss and National One's a very tough league," he said.
"If we don't get that funding from the RFU and have the continued support from sponsors and supporters it could be a few years of Plymouth staying there before they get back into the Championship.
"Doncaster did it because they kept the same money and the same squad, will we have that luxury? I don't think so. We've got to do everything we can to make sure we stay in it this year.
"To have a full-time professional squad in National One would need someone to put the money in because the RFU money won't be there."