NFL 'ahead of rugby union' on concussion, says Christian Day
Last updated on .From the section Rugby Union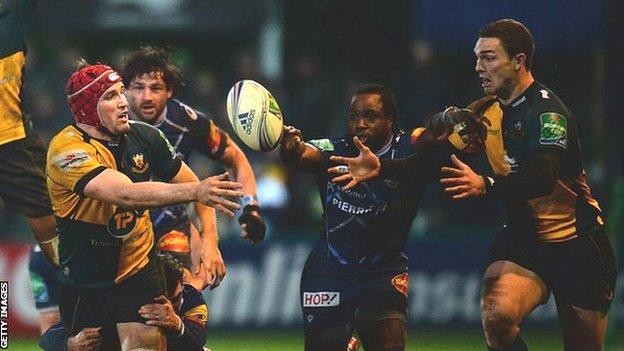 Rugby union can learn from the NFL when it comes to understanding concussions, says Rugby Players' Association chairman Christian Day.
The Northampton lock wants to see independent doctors employed to spot head injuries during games.
Day's club-mate George North was rested last week after taking two blows to the head playing for Wales against England.
"I think in terms of a sport to be analysed and replicated, the NFL is amazing," Day, 31, told BBC Look East.
"It has huge resources, huge money put into it. They're ahead of us in terms of concussion and awareness."
North appeared to be knocked out by a second blow to the head in the 21-16 loss to England in the Six Nations two weeks ago.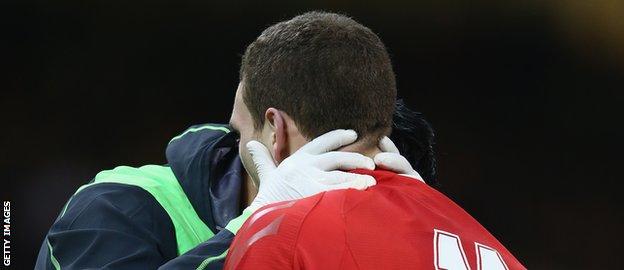 North was allowed to play on after the incident was missed by medical staff at the time. They did not have access to a video feed that highlighted what had happened, to the TV audience.
The Welsh Rugby Union said North would not have been allowed to carry on had the second incident been spotted.
Although the 22-year-old has passed all tests for concussion, he was granted an "extended recovery period" and missed the weekend win over Scotland.
"I think the next step is what they have in the NFL - an independent doctor who is sat watching a TV screen," said Day, who helps represent players' needs in his role with the RPA.
"If he sees any player displaying anything that doesn't look normal, he gets pulled of the pitch.
"The disappointing thing with George is that 10 million people watching that game saw him get knocked out and unfortunately the medical team, the referee and people on the sidelines weren't aware.
"And he wasn't removed from play when he should have been."