Cardiff Blues: Mark Hammett not solely to blame - Adrian Hadley
Last updated on .From the section Rugby Union
Ex-Wales wing Adrian Hadley says Mark Hammett is not entirely to blame for Cardiff Blues' disappointing season.
Blues have won only four of 14 matches in the Pro12 since his appointment and lost to Treviso on Friday night.
"You can't pin all that blame on Mark," Hadley said. "This is probably the worst Blues squad I've seen since the introduction of regional rugby."
He added: "Having spoken to a couple of people at the Blues they thought Mark Hammett was the right guy to come in but it hasn't worked.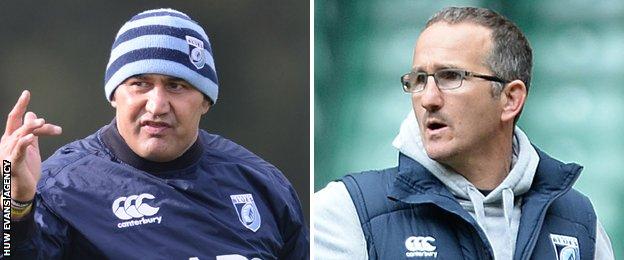 "The board have got to take a lot of credit for putting a lot of money in and getting the structures in place for the Blues to win the Amlin Cup and get through to the semi-finals of the Heineken Cup.
"But they've also got to take the blame for taking them away from the Arms Park to the Cardiff City Stadium, which was an absolute disaster.
"They've then bought poorly and have not invested money in the team since then.
"You get what you put into it and unfortunately the Blues' budget has not been able to buy quality players and that's got to be looked at.
"This is not good enough for a capital city region and [they] could finish, if the Dragons continue the way they're going, as the bottom region in Wales.
"[That's] not acceptable for Cardiff Blues."
New Zealander Hammett was appointed in May 2014, replacing former Wales international Phil Davies.
Former Blues flanker Martyn Williams:
"It's not a surprise even though it came out of the blue... he had a three-year deal and everyone at the region wanted him to see it through. There were huge expectations, but the team just haven't fired."
Blues assistants - former Wales internationals Dale McIntosh and Paul John - had been in temporary charge following Davies's departure in March 2014.
The region has yet to comment on Hammett's future, but McIntosh and John are likely to take over as caretaker coaches in the event of the former All Blacks hooker's departure.
"I know Hammett's got his problems and it's not his squad, but I would have left the Chief [McIntosh] and Paul John in charge," Hadley added,
"They galvanised that squad at the end of last year and they had a decent end of season.
"Having done that why on earth do you want to go and upset the apple cart by bringing in somebody above them?
"I could not understand that decision whatsoever. They decided to bring Mark Hammett in and it hasn't been a happy camp since."