Six Nations 2015: When Wales had 24 years of Paris pain
By Richard Williams
BBC Wales Sport
Last updated on .From the section Welsh Rugby
There are few pieces of rugby commentary more cherished in Wales than the words that accompanied Graham Price's extraordinary try on his debut for Wales against France 40 years ago.
''They'll never believe it in Pontypool,'' said Nigel Starmer-Smith after the tight-head prop's lung-bursting 70-yard kick and chase - aided and abetted by Geoff Wheel and JJ Williams - set the seal on a memorable 25-10 victory for Wales in 1975.
They could not believe it in Machynlleth either, or in Moascar in Egypt where the great prop was born.
Ray Prosser, the uncompromising and unforgiving coach of Pontypool, certainly couldn't believe his eyes.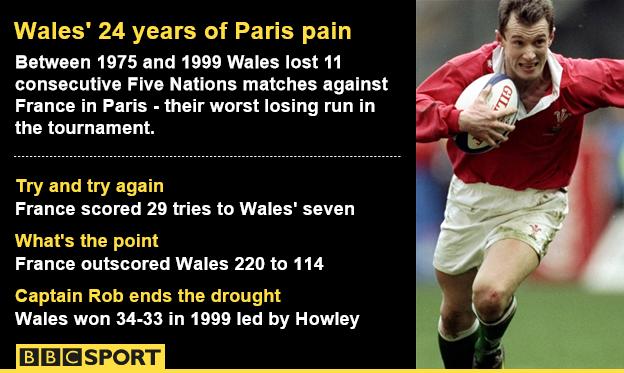 ''If you can run that far in the last minute of a game, you obviously haven't been pushing hard enough in the scrums,'' was his typically brusque comment on the young prop's return to club training in the week after the game.
Price was one of six players making their debuts for Wales in Paris that day - and the match marked the first appearance together in a Wales team of the famous Pontypool front row of Price, Bobby Windsor and Tony 'Charlie' Faulkner.
However, that victory would be Wales' last in Paris for 24 years.
The next 11 visits saw Wales beaten and by the time Robert Howley led Wales to a thrilling 34-33 win in 1999, Graham Henry was coach and the French had moved home from Parc de Princes to Stade de France.
The period also contains a sequence between 1983 and 1994 when France won 12 consecutive matches against Wales, home and away.
However, in the 108-year history of international matches between the countries, Wales' losing run pales alongside France's barren years in the early skirmishes.
It took Les Bleus 16 attempts to beat Wales - finally coming out on top 8-3 at Stade Colombes in 1928 after suffering 15 consecutive defeats.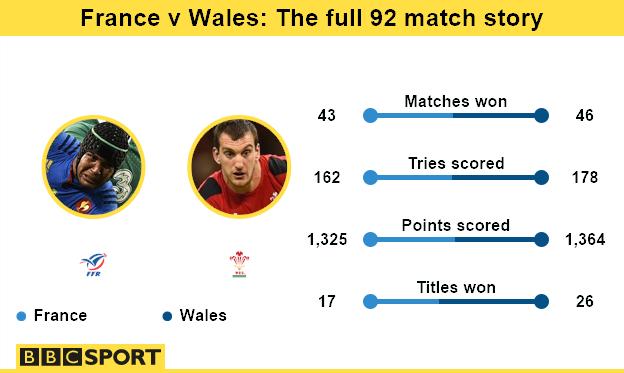 France had beaten each of the other home nations before that date, and the win was made even more remarkable by the fact France played most of the game with 14 men after Andre Camel injured a shoulder and could not play on.
That losing streak contained the biggest defeat to Wales - 47-5 in Paris in 1909. If you applied the modern scoring system to the match, the final score would have been 69-7.
France's biggest win in the series came in 1998 in a home match for Wales played at Wembley Stadium while the Millennium Stadium was still under construction. Thomas Castaignede ran riot as Wales were crushed 51-0.
It is one of only two matches between the countries played on neutral territory - the other was the semi final of the 2011 World Cup when France scraped a 9-8 win against 14 men at Eden Park in Auckland.
Wales have won three times in Paris since 1999, 43-35 in 2001, 24-18 in 2005 and 16-6 in 2013.
The 1969 match in Paris ended in an 8-8 draw and was memorable for witnessing the debut of Phil Bennett who became the first substitute used by Wales when he came on for injured centre Gerald Davies. Bennett played four minutes and did not touch the ball.
The other drawn matches in the series both happened in Cardiff - 11-11 in 1964 and 16-16 in 1974.
Wales are bidding for a fourth consecutive win over the French in Paris this weekend - a feat they have not achieved since the 1950s when they won six matches in a row between 1952 and 1957.