Willie John: A rugby legend

By Gavin Andrews
BBC Sport NI
Last updated on .From the section Rugby Union
It started with a phone call. "Hello, could I speak to Willie John McBride please?" Speaking.
"Hello Willie John McBride." Oh dear, how do you talk to a legend? You can't just call him Willie John like an old team-mate, can you?
"It's Gavin from the BBC here, would you be free to meet for a chat about the Lions in 1974?"
"Yes. Tomorrow afternoon at my house about 2 o'clock Ok."
That went well, big deep breath.
Then came the drive up the lane to the McBride family home in Ballyclare. It was easier to say hello in person. Still, I kept it to Mr McBride.
A firm handshake and a welcome into the living room. He sat back in his armchair (if he still smoked a pipe I imagined he would have lit it). "Well, what would you like to talk about?"
"You," I replied.
Rugby memorabilia was dotted around the room. Photos and mementos from journeys to far off frontiers with Ireland and the Lions. Willie John has an aura about him. At 74 he is still a big man, broad, a presence.
After a few pleasantries, it was time for the pitch. "Mr McBride, we would like to tell your story to our generation; to the rugby fans who have known nothing but the modern game - World Cups, Six Nations and professional players. We want to show the days with no substitutions, and when a Lions tour lasted four months....and in your words."
He paused and started talking. Two hours of anecdotes later, we sat with eyes wide and mouths open. It was time to ask: "Would you do a bit of filming with us and tell us some of those stories?"
The diary came out of his back pocket. I'm free next Thursday. We were underway!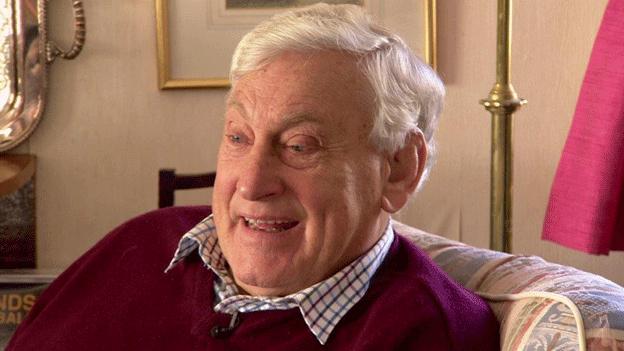 What immediately struck me was the importance of his upbringing in Moneyglass, near Toomebridge in County Antrim. Growing up on the family farm, he lost his father at four years of age.
"That's something that still wakes me up now and again. I often wonder what it might have been like to have had a father over those years," he said.
"I had three brothers and a sister on the farm and my wonderful mother was a tremendous manager. I like to think she taught us proper values in life.
"I believe those years gave me not only a strength, but mentally it gave me that will to go on. There was no such thing as stopping at half-time; you had to go the whole way."
There was no rugby history in the McBride family. A house match at Ballymena Academy at the age of 17 would change that,
"They came to me and said, you're a big guy. If you play we'll have 15. I hadn't a clue about this game, but I was big and it wasn't a problem to me, I could shake people off."
After a short spell with Randalstown, he moved to Eaton Park and Ballymena Rugby Club where the myth of Willie John was born.
His playing record stands with any of the greats of the game. Almost 20 years of service with Ulster, 63 caps for Ireland (1962-75) and five tours with the then British Lions.
The series wins in New Zealand in 1971 and South Africa in 1974 have gone down in sporting folklore; not only for the manner of those wins but for the style of play of the tourists.
'Willie John' traces the highs and lows of life as an international sportsman in an amateur era.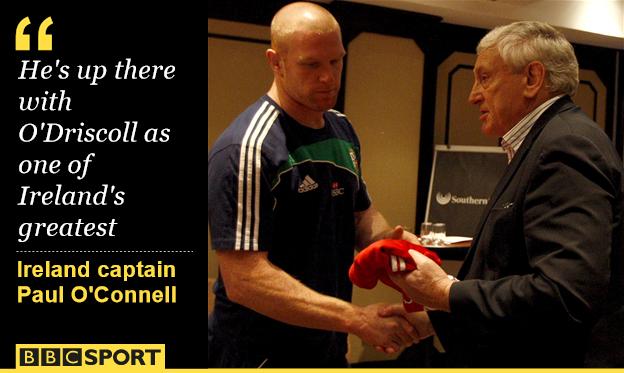 In the making of this programme there was a long list of greats, from every era, eager to give their impressions of the man from Moneyglass.
Cue more awkward phone calls! But just mention the name Willie John and they all made time.
Sir Ian McGeechan went on his first Lions tour with Willie John in South Africa in '74,
"I still think of him as my captain. Willie John was probably the biggest natural leader of British and Irish rugby in the 70s, when it was the best in the world. He was somebody that gave inspiration and aspiration for players of the time that it put British rugby at a different level. Without him I not sure that would have happened."
Paul O'Connell, a fellow Ireland and Lions captain said: "Any player who's been to New Zealand and won a Test series deserves the upmost respect. He's up there with Brian O'Driscoll as one of Ireland's greatest players."
The programme also examines the struggles Willie John faced off the pitch.
As an Ulsterman captaining Ireland in 1973, during the troubles, he was the subject of death threats. And security was stationed at the McBride family home.
In 1974 he became embroiled in a political storm. The Lions captain would shoulder the burden for his team in the face of opposition to their tour of Apartheid South Africa.
In this programme we meet his family, his team-mates, his critics and of course his opponents on the field.
From the lifelong friendships of the Lions team of '74, to Ravenhill and the farm where he grew up, we examine the making of a legend.
Gareth Edwards, recognised as one of the greatest players of all time, was a team-mate in '71 and '74 and summed up Willie John.
"WJ McBride will always be synonymous with the great game of rugby and in particular with the British and Irish Lions. It's been a pleasure to have played alongside him, it's been a great pleasure to have known him. Without question, he's not only a fine rugby player, he's a great gentleman. "
So how do you speak to a legend? Well you get over it! After six months I can now call him Willie John. Tentatively.
Click here for more information on Willie John, which is on BBC1 Northern Ireland at 22:45 on Monday, 2 March