Women's Six Nations 2015: Katy Mclean regains England captaincy
Last updated on .From the section Rugby Union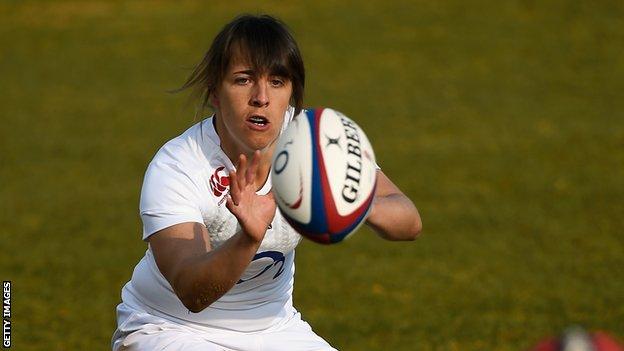 Katy Mclean has been reinstated as England captain for Friday's Women's Six Nations match in Ireland.
Taylor was made England captain for the Women's Six Nations, but their campaign began with a 13-0 defeat against Wales.
"For me, it's a massive honour," Mclean told BBC Sport on being restored to the role.
"When I was little, one of the biggest things was to captain England. I've been very, very lucky to do that job."
Taylor's promotion to the captaincy was intended to allow Mclean to lead England Sevens' attempt to qualify on behalf of Great Britain for next year's Olympics.
After the defeat against Wales, Mclean returned to the Six Nations side as England beat Italy 39-7 on 15 February, with her Darlington Mowden Park club-mate Taylor retaining the captaincy for that match.
England interim head coach Nicola Ponsford said: "Katy has demonstrated over the years, especially during the World Cup, her qualities as a leader and I think that will be vital against Ireland.
"Tamara has done a fantastic job leading the side against Wales and Italy so we are fortunate to have two experienced leaders in this team."
Saracens full-back Lauren Cattell, who began on the bench against Italy, has been promoted to the starting line-up in place of Kay Wilson, while Bristol's Amber Reed is named among the substitutes after recovering from injury, along with uncapped Darlington prop Heather Kerr.
Mclean has also welcomed the appointment of Simon Middleton as head coach of the England women's XV team.
She worked with Middleton when he was one of former head coach Gary Street's assistants when England won the XVs World Cup by defeating Canada last August.
The 48-year-old is currently in charge of the Sevens squad and will also lead the XVs from May after the Sevens World Series.
Mclean added: "Simon is a good coach and for us it allows integration between the Sevens and XVs programmes.
"He is really hands on, the first one on the pitch and really organised with a big eye for detail. As a fly-half, it's really good to learn all these fine margins he brings to our game."
Mclean is one of several members of England's World Cup-winning squad who are taking part in the World Rugby Women's Sevens Series.
Twelve teams are competing in the six-event series, with four automatic qualification places on offer for the 2016 Olympics in Rio de Janeiro. England are fifth in the qualification table after two events. The third tournament in the series, the United States Women's Sevens, will be held in Atlanta on 14 and 15 March.
England: Lauren Cattell (Saracens), Ruth Laybourn (Darlington Mowden Park), Abigail Brown (Bristol), Ceri Large (Worcester), Sydney Gregson (Bristol), Katy Mclean (Darlington Mowden Park), Bianca Blackburn (Worcester), Rochelle Clark (Worcester), Victoria Fleetwood (Saracens), Laura Keates (Worcester), Tamara Taylor (Darlington Mowden Park), Abbie Scott (Darlington Mowden Park Sharks), Alexandra Matthews (Richmond), Hannah Gallagher (Saracens), Harriet Millar-Mills (Waterloo)
Replacements: Amy Cokayne (Lichfield), Heather Kerr (Darlington Mowden Park), Justine Lucas (Lichfield), Rowena Burnfield (Richmond), Hannah Field (Richmond), Fiona Davidson (Darlington Mowden Park), Megan Goddard (Worcester), Amber Reed (Bristol)