Cardiff Blues should 'sound out' Mike Rayer, says Andy Moore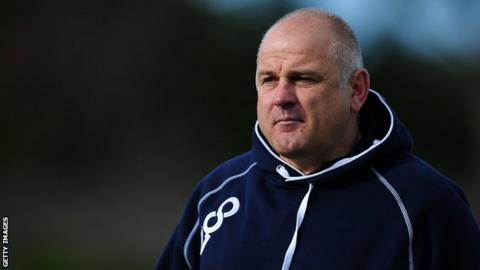 Ex-Wales and Cardiff scrum-half Andy Moore believes Cardiff Blues should consider Mike Rayer as Mark Hammett's successor.
Hammett has left his role as director of rugby for family reasons, six months into his three-year contract.
Rayer won 21 Wales caps and played 367 times for Cardiff RFC and since 2005 has been English Championship club Bedford Blues' director of rugby
"They could do an awful lot worse than have a look at Mr Rayer," Moore said.
"If it was me I would be on the phone to him at this stage just to sound out where he sits in terms of his commitments with Bedford.
Possible successors to Hammett:
Mike Rayer - Former Wales and Cardiff full-back now at BedfordDanny Wilson - Currently assistant coach at BristolGeraint John - Former Cardiff fly-half, now coach of Australia sevensRob Howley - Wales attack coach and former Blues scrum-halfDale McIntosh - Defence coach under Mark HammettPaul John - Backs coach under Mark Hammett
"He's done exceptionally well at Bedford when you think he's been running really a semi-professional team and he's got them to the play-offs and to a stage where year on year he's done exceptionally well.
"You look at the turnover of coaches [at the Blues] in the last few years and it is a tough, tough job to take."
Rayer was a long-serving full-back with Cardiff before the introduction of regional rugby in Wales.
Former All Blacks hooker Hammett, 42, was appointed for 2014-15, replacing former Wales international Phil Davies.
Blues have won only four of 15 matches in the Pro12 since his appointment, losing 40-24 to Treviso on Friday to leave them 10th in the table.
Assistant coaches Paul John and Dale McIntosh have been put in temporary charge with Blues struggling to qualify for the top tier of Europe competition next season.
Fly-half Rhys Patchell said the news that Hammett was leaving the region undoubtedly affected the team's performance against Treviso.
Blues' 40-24 defeat in Italy was only hours after news broke of Hammett's imminent departure and Patchell said the news came as a shock to the team.
"How would you feel if there was speculation about your boss, out of nowhere?" Patchell said.
"Maybe it took a little bit of momentum out of the preparations because I thought we prepared well all week
"But we're paid to do a job and we didn't do it out in Treviso.
"Obviously that's no excuse and we were bitterly disappointed with the performance against and looking to put right at the weekend."