Six Nations: Apprentice George Ford v The Master Johnny Sexton

By Tom Fordyce
Chief sports writer
Last updated on .From the section Rugby Union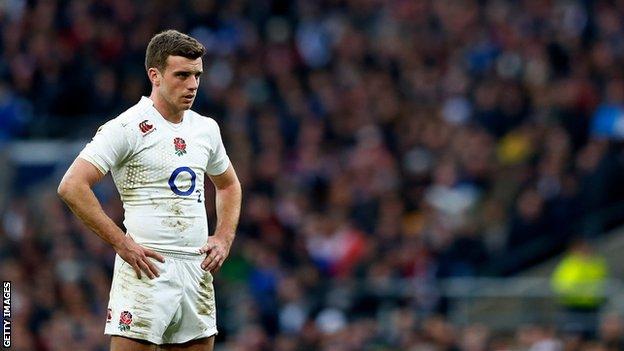 Six Nations 2015: Ireland v England
Venue:
Aviva Stadium, Dublin
Date:
Sunday, 1 March
Kick-off:
15:00 GMT
Coverage:
Live on BBC TV, HD, Red Button, Radio 5 live, Radio Ulster FM, the BBC Sport website, mobile, the BBC Sport app and Connected TV.
One will be the smallest man on the pitch, a 21-year-old international novice in his first season of Six Nations rugby. The other is teak-tough and combat-hardened, 400 international points further down the line and - at 29 years old - arguably the best player in his position in world rugby.
The battle between opposing fly-halves George Ford and Johnny Sexton in Dublin this weekend should be scarcely that, more apprentice and master than heavyweight contest.
Except that would be to misunderstand what has taken Ford this far this fast. When was he ready for international rugby? Always.
"It was his decision-making on the ball that convinced me," remembers John Fletcher, the England Under-18s coach who took a 15-year-old Ford on tour to Argentina in 2009.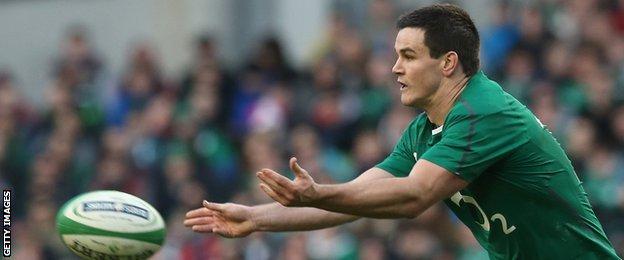 "It was both the types of decision and then the quality of the execution. As a young player the execution wasn't always there, although he always had a very low error rate. But he knew when to run, when to pass, when to kick. He had a lot of spatial awareness and time on the ball, even at that age.
"George thinks a lot about the game. And so he's very good at sorting out problems as they happen on the pitch. Lots can talk about it. Lots are very good after the event. George is very good in the moment."
This is no accidental germination of talent. Ford is the product not just of the clichéd 10,000 hours of practice but a very particular rugby hot-housing.
It is one thing to inherit the genes of rugby league international Mike Ford. It is another to spend your childhood at your father's side as he coaches the elite teams of rugby union: living in camp with Ireland aged eight; going on the 2005 British and Irish Lions tour as an 11-year-old; sitting in England's dressing room before the 2007 World Cup final.
Hanging round Old Lansdowne Road with Ireland, Ford would field the kicks of fly-halves Ronan O'Gara and David Humphreys. With England he would cadge free tuition from Jonny Wilkinson.
At home there was his elder brother Joe, now a number 10 at Sale Sharks, to take on in daily kicking contests. There was younger brother Jacob, who preferred to wrestle and fight. Next door? That was Paul Sculthorpe, St Helens and Great Britain great, always happy to pass on Saints shirts and throw a ball around on the street outside.
"He's had the privilege of being in a lot of changing-rooms," says his father Mike. "And it has an effect on you.
"George has always been above himself in years, not just on the field but in life in general. The way he compartmentalises it all is very impressive.
"It's always what you do on the field that matters. And to do it on match-day you have to do it on training day. He understands that. And he has all his life.
"He decided early on what he wanted to be. I think it's the same with Owen Farrell with his dad Andy. When he went to the England camp as a player for the first time, he'd been there before, so he wasn't fazed by it."
Ford and Farrell juniors are that most contrary of things: childhood friends turned arch-rivals, in their case for the national team. As kids the two sons of league legends would go head to head when Wigan's St Patrick's school (Farrell) met Halifax's Rishworth School (Ford); when their fathers moved south to coach and play for Saracens, they shared a school in St George's in Harpenden and lived 10 metres apart on the same street.
Ford would even do Farrell's homework so the pair could spend more time each night with ball in hand. Now the favour has been returned, Farrell giving Ford detailed feedback on his two Six Nations matches so far and, two years on from his own match-winning display in Dublin, telling his old friend exactly what he can expect when the green-shirted wave hits.
Because hit it will, not least in the shape of Sexton - three inches taller, almost two stone heavier, as happy running into a 19-stone wrecking-ball like Mathieu Bastareaud as he is dictating play with fingertip or boot.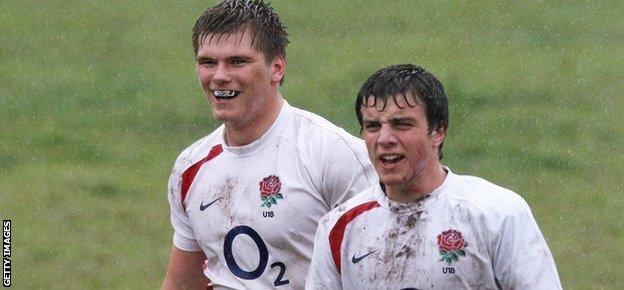 For all his preternatural ability, Ford is up against the proven. Sexton is not just the Lions fly-half. After the retirement of Brian O'Driscoll and the slow fading of Paul O'Connell he is his country's on-field heartbeat: cock of the walk, confident king of all he surveys.
"We had shouting matches in our day," O'Driscoll revealed in his recent autobiography. "The fierce competitive streak burning inside Johnny sometimes boiled over. There were times when I smiled and tried to reason with him, but it was hard to penetrate the wall of certainty he built around himself, the conviction he had to be right, all the time."
Why should Ford think he can shatter the poise of a man not intimidated by his nation's greatest player?
Partly it is Sexton's own youthful example, when on his Six Nations debut at Twickenham five years ago, up against another exceptional pastmaster in Jonny Wilkinson, he had provided the critical kick and pass for Ireland's first two tries in their 20-16 victory.
Partly there is Ford's form - flourishing amid the crushing pressure of that opening Friday night showdown in Cardiff, finding his passing range a fortnight ago against Italy to send club-mate Jonathan Joseph away for both his tries.
"I was pleased he was a 10 rather than a nine, otherwise it would have been me moving," says Ben Youngs, his team-mate at Leicester before Ford moved to Bath, and his scrum-half for England on Sunday.
"He's one of those guys who, by the time I retire, I'll never see another one like him."
Then there is the simple fact that Ford has always done it, at every level he has played - against older opponents, bigger opponents, nastier opponents.
"Even from a very young age, even in Argentina, he would stand up and organise people," says John Fletcher.
"George has never needed a huge amount of coaching. His knowledge of the game, his understanding of it, his ability to communicate and organise and motivate - it's outstanding.
"To be perfectly honest, he was always outstanding. He clearly had some matches when it went better than others, but every time he has pulled on an England shirt, from Under-16s upwards, he has either been the outstanding individual or one of the top two performers."
Such precocious performances can lead to their own pressure. How to deal with expectation, with hype, with lofty comparison?
The Apprentice v The Master

George Ford

Jonathan Sexton

21

Age

29

Bath

Club

Racing Metro

9 March, 2014 v Wales

Test Debut

21 November, 2009 v Fiji

8 (4 starts)

Int'l caps

48 (40 starts)

60

Points

443 inc 9 tries

IRB World Junior Player of the Year 2011, World Junior Championship runner-up 2011.

Honours

Three-time Heineken Cup winner (2008-09, 2010-11, 2011-12), British & Irish Lions tour 2013, Six Nations winner - 2014
"It's pretty important to me as a parent, and to Sally-Anne his mum, that he has a 21-year-old life as well," says Mike. "We don't want him to be too serious too young and get to 35 wondering where his life has gone.
"But to get where he wants to be there are a lot of sacrifices that have to be made, and he understands that.
"I texted him on the night before the Wales game to warn him that he'd be getting a lot of texts that weekend. And he said, 'I am going to be the most composed player on the field. I'm prepared for this, I'm ready. I've done everything I can to be the best player I can be.'"
Ford is still a mere eight caps into his England career. Half of those appearances have come off the bench. How long does it take for an international fly-half to truly find his groove?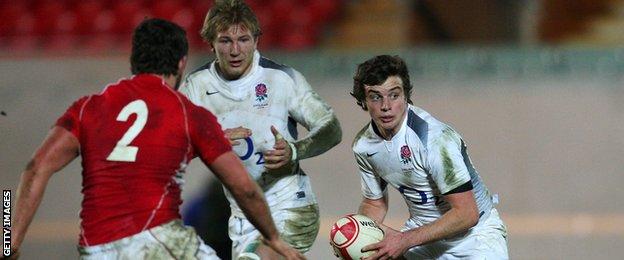 "I suspect it takes a while," says his father. "It's like being a coach - when I started in 2002, you think you're ready, but you're not. The more you learn every year and every day the better you get, and it's the same for a 10.
"Dealing with difficult situations more often, learning to deal with a loss, how to handle a seven coming down your channel or the six and seven waiting for you in the defensive line. If it's windy, if the ref is running it in a certain way. You can have the skillset, but you have to access the right tools at the right time.
"In George's case, the more he plays and the more experienced he gets, the more he will improve. Jonny [Wilkinson] had that attitude - get better in every training session. And George saw that."