Six Nations 2015: Wales can learn from 2005 says Ross Harries

By Ross Harries
Scrum V presenter
Last updated on .From the section Welsh Rugby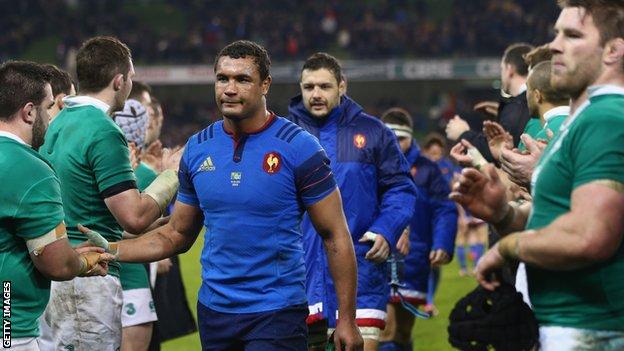 Six Nations 2015: France v Wales
Venue:
Stade de France
Date:
28 February, 2015
Kick-off:
17:00 GMT
Coverage:
Live on BBC One, HD, Red Button, S4C, BBC Radio Wales, BBC Radio Cymru, Radio 5 live, 5 live sports extra, online, mobile, the BBC Sport app and Connected TV.
A win in Paris gives both Wales or France hope of taking the 2015 Six Nations title. Scrum V's Ross Harries looks at what the men in red might learn from history and what faces them on Saturday night.
The French are easily the most enigmatic of rugby nations; the hardest to pin down.
This current vintage is emphatically less than the sum of its parts. They're blessed, as always, with a huge physical pack, a reliable and well-oiled set-piece, and a collection of three-quarters capable of finding space in the most claustrophobic of modern defences.
Wesley Fofana and Yoann Huget are both capable of giving the most confident defenders sleepless nights. But for reasons that are difficult to fathom, they continue to misfire on the international stage.
Is it Philippe Saint-Andre's coaching deficiencies? Is it the ongoing disconnect between the Top 14 and the national side? Or is it simply the unpredictable Gallic temperament?
Whatever the reason, it means Wales can travel to Paris on the weekend with confidence. They've beaten France three time in a row, and the Stade de France has nowhere near the fear factor that Parc des Princes did.
Wales have met France there on eight occasions and won four of them. Not a bad return in anyone's book.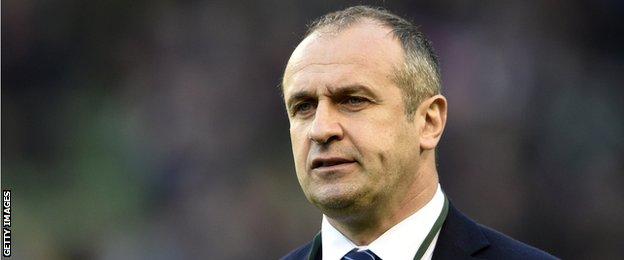 And the game in Paris has often been a pivotal one for Wales in terms of changing fortunes. In 1999, they were given no hope after losing to Scotland and Ireland, but a dramatic 34-33 win gave Wales the confidence to go on and beat England at Wembley and embark on a record 10-match winning run.
In 2013, Wales were the reigning champions, but a humbling defeat by Ireland in Cardiff left their title defence in disarray. Round two in Paris was the first of three consecutive away trips, and Rob Howley's men were staring down the barrel of a large French cannon.
But any Gallic firepower was quelled by a stubborn defensive performance, and Wales' victory was the springboard for a remarkable resurgence that culminated in a record victory against England, and a second title in a row.
But perhaps one of the most pivotal of all was the 2005 clash. Wales had travelled to Paris buoyant, following a Gavin Henson-inspired victory over England, and a free-flowing Roman romp against Italy.
An entire generation of Welsh fans raised on a diet of Welsh underachievement and heartache were beginning to whisper about Grand Slams.
But any hubris disappeared during a horror 40 minutes at Stade de France. Wales were run ragged by a French side playing with genuine menace and purpose.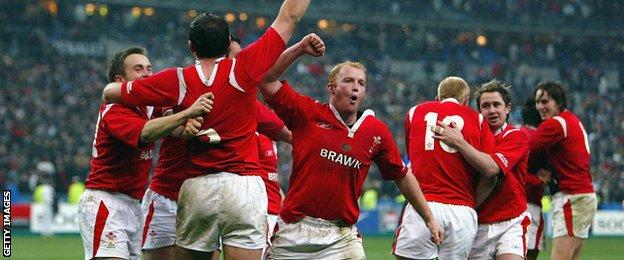 And if one duel was a microcosm of the game as a whole, it was the one between Aurelien Rougerie and Shane Williams out wide. The giant French winger terrorised his opposite number using his size and physical presence to strike fear into his diminutive opponent.
A Stephen Jones penalty before the break made it 15-6 at half time, and all but the most optimistic of Welsh fans were dreading the second half, when surely the dam would burst.
Something happened in that Welsh dressing room at half-time. Because when they emerged from the tunnel for the second half, the roles were reversed. It was the men in red who suddenly looked superhuman.
Rougerie - so majestic in the first half, all rippling thighs and thunderous charges - suddenly looked clumsy and disoriented. Shane Williams, his rag doll in the first half had turned into his impish nemesis. A cackling jester nipping, darting, and wrong-footing him at every turn.
It was another Williams though, who was the architect of that victory. The Maerdy Maestro, Martyn Williams, scored two tries in five minutes, totally changing the momentum of the match. The first saw him work a neat one-two with Shane Williams. The second was the work of an arch-poacher. A quick tap penalty, and a burrow over the line.
There followed a number of twists and turns, but that period just after half-time set the tone for the victory. It was a lesson in the swift power of recovery.
If Wales find themselves under pressure from a re-energised France this weekend and searching for inspiration, they could do worse than drawing from the well of 2005.