RFU and Premiership Rugby begin expansion discussions
By Chris Jones
BBC Radio 5 live
Last updated on .From the section English Rugby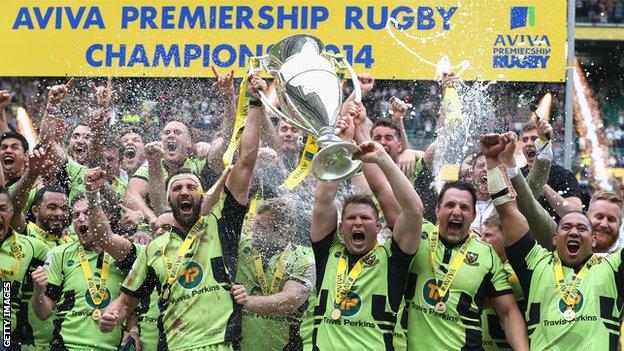 Plans to expand the Aviva Premiership and scrap promotion and relegation are being discussed by Premiership Rugby and the Rugby Football Union.
England head coach Stuart Lancaster, who was previously director of rugby at Leeds Carnegie, also expects to be consulted over any changes.
"I'm sure my opinion will be asked and I guess I've seen it from all ends," Lancaster said.
One idea is for the Premiership to grow to 14 teams for the 2016-17 season.
The talks between Premiership Rugby and the RFU, described as "constant and productive", are a key part of the negotiations around a new agreement between the two parties, with the current deal expiring in 2016.
The potential move is being described as a "moratorium" rather than a permanent ring-fencing, meaning clubs in the Championship may be able to force their way into the top-tier if they could prove their suitability on and off the pitch over a period of time.
Geoff Irvine, chairman of the Championship, told the Daily Telegraph: "We understand that there is a move afoot within Premiership Rugby to go to 14 clubs and either ring-fence or have a play-off.
"The Championship would be very interested in hearing the details of these discussions and hope at some point that we will be consulted."
The travails of London Welsh - who have yet to record a single win this season - have shown the current chasm between the Premiership and the Championship.
However Bristol and Worcester are two clubs with the infrastructure to compete in the Premiership and they would both be almost certain to feature in any expanded league.
The proposal has support of the Premiership clubs but would also need the approval of the RFU council, which in the past has advocated the retention of the promotion and relegation system.
Ian Connell, board chairman for Championship side the Cornish Pirates, told BBC Sport: "Cornish Pirates welcome a discussion with PRL and feel that we should be consulted. If and when that happens we would intend to play a full part."