Jeremy Guscott on Conor Murray, Dan Biggar & team of the week

By Jeremy Guscott
Rugby union analyst, BBC Sport
Last updated on .From the section Rugby Union524
Just when you thought you had the key match in the race for the Six Nations crown nailed down, another title decider crops up.
They are now on a collision course with a Wales side that rediscovered some of their best form to beat France in Paris.
Scotland's campaign continues to over-promise and under-deliver after a bright opening against Italy in Edinburgh ended in a miserable defeat.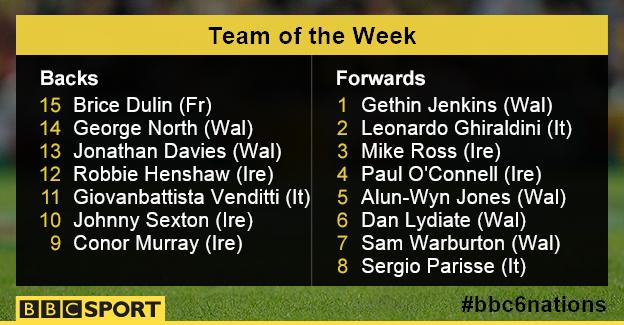 Player of the weekend: Ireland scrum-half Conor Murray. Every kick out of his hand was right on target, with the right distance with the right hangtime for his chasers to apply real pressure to England.
He chose his options very well also. All his decisions were expertly thought through.
Try of the weekend: I really liked Dan Biggar's try for Wales against France, primarily for the two bits of play that set it up. It was a lovely dummy and dart from Rhys Webb, a great support line from Dan Lydiate and then a deft offload from the big man for Biggar to score.
Memory of the weekend: Coming over on the flight to Dublin there were at least four hen parties and I was wondering if they knew they were landing in the middle of the biggest rugby match that the city has seen for a few years.
Maybe they did, maybe they didn't. Maybe they told the hen, maybe they didn't.
Ireland playing World Cup-winning rugby...
Ireland's win over England was their 10th successive Test victory and was another combination of a clear strategy, executed brilliantly.
The kicking game has become crucial in international rugby and it is no stroke of luck that Ireland have mastered it.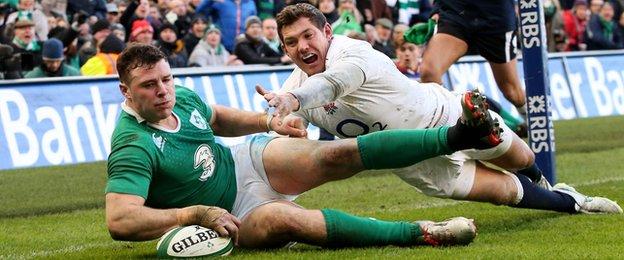 The stats from their win over England are revealing. Conor Murray and Johnny Sexton kicked the ball 19 times between them, regaining possession on six occasions.
England's half-backs Ben Youngs and George Ford kicked the same number of times and didn't get the ball back once.
That was no fluke either. Before the game England had retained 10% of the ball they had kicked in their first two Six Nations matches, Ireland were almost double that at 19%.
Looking beyond the Six Nations, you can see how many teams have won World Cup finals by not conceding tries and knocking over the penalties - playing the tight percentages like Ireland are.
Of course England were very pragmatic in 2003, but South Africa won the finals in 1995 and 2007 also playing that way. Even for New Zealand in 2011 it came down to a penalty.
You don't have to play a wide expansive game to win a final.
Ireland's game became less accurate when Ian Madigan replaced Johnny Sexton but very few teams can replace a world-class player with a world-class player. I'm sure Joe Schmidt will be emphasising to Madigan how important that area of his game is.
...but Wales favourites for Cardiff crunch
Wales will play it down and say they are not favourites to beat Ireland in the next round. That is what the modern PR machine demands.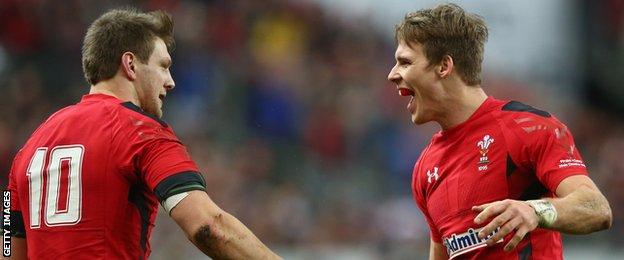 But with their big-match, big-name players fit and home advantage, they should be relishing the meeting in two weeks' time.
A good team does not become a bad team overnight, and what I think was holding back Wales was a lack of confidence.
Their away win over France, when they were underdogs in many eyes, may kickstart their campaign and get them playing as they can.
If we talk in terms of players of the highest quality - those who can win a series as part of the British and Irish Lions - then Wales have more players in that echelon than Ireland.
If all those players play as well as they can, Wales should really have the edge, especially at the Millennium Stadium.
England left with lessons to learn
When England lost to Wales in Cardiff in 2013, they learned from it. They came back stronger to win at the Millennium Stadium in the first round of this season's tournament.
Coach Stuart Lancaster has to ask his side to make their defeat in Dublin a similarly strengthening experience.
The big lesson is the penalty count. England conceded 10 penalties to Ireland's eight with 10 different players falling foul of referee Craig Joubert.
Sometimes it is the streetwise thing to do to give away a penalty to deny the other side quick ball and a possible try.
But when those penalties add up to cost you the game, you have to re-evaluate and ask whether it was worth giving them away. How does the risk balance with the reward.
I don't think this loss should be an argument to bring back more experience though. These England players have their places on merit.
Fly-half George Ford and centre Jonathan Joseph are both good inclusions and I don't think any individual England player was shown up in Dublin.
Crossed wires cost Scotland
When you stop trying to take positives from negatives and start dealing with reality, Scotland's defeat by Italy shows that they have gone backwards from last season under Scott Johnson.
Coach Vern Cotter said after the match that he was "not getting the message across" to his team. That is very telling about what is going on inside the Scotland team.
While a lot of the post-mortem focused on fly-half Peter Horne's failure to find touch from a penalty late in the match when his side led, Scotland's defeat was a more general story of missed opportunities and basic errors.
Cotter has to keep drumming his principles into his players - to play the more expansive game that suits their exciting runners, without pushing their luck too far.
They have to keep remembering the quality of their performance away to France, the opportunities they created against Wales and where they could be in the tournament.
In all three games they are left with what-ifs, wondering about little things they could have changed and possibly won.
It will be tough for them now with a trip to play England at Twickenham before they face Ireland, potentially with a Grand Slam to play for, at home on the final day.