Scotland's Al Dickinson aggrieved by scrum refereeing
Last updated on .From the section Scottish Rugby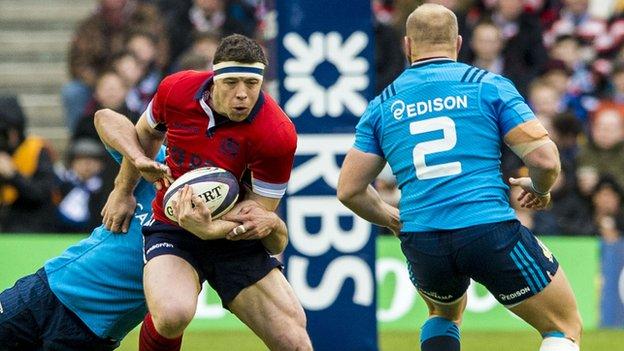 Referee George Clancy's handling of the scrummage during Scotland's Six Nations loss to Italy was "disappointing", according to prop Al Dickinson.
Irishman Clancy oversaw a string of resets and delays at the set-piece as the winless hosts went down 22-19.
"I think he was making a mountain out of a molehill at times, but when he let us scrum we scrummed really well," said the 31-year-old.
"It was just frustrating he seemed to take an age."
The arbiter frequently broke up the packs to mete out instructions and reposition the front-rows. It rendered the frustrated Gloucester loosehead harnessing all his diplomacy when commenting on the officiating of scrummages at large.
"It seems front-rows don't know anything about scrummaging and refs do - I don't know many prop refs," he said.
"It seems to be a bit of a lottery at times, but what can you do? As players, we're not allowed to talk to the refs about what we can do to solve it or what issues he sees.
"In rugby you can't talk to the refs otherwise you get sent to the bad boys' corner."
Dickinson was part of a Scottish eight that struggled to get to grips with the driving maul of the Italians - a tactic that ultimately yielded two tries for the Murrayfield visitors.
Scotland face England and Ireland on 14 and 21 March respectively, two fearsome packs and renowned exponents of the maul.
"Obviously we [the forwards] are going to get heavily criticised, especially for the driving maul," said Dickinson. "There were times today we should have stopped it and didn't.
"They're going to look at the video and think driving maul is a weakness - we have to get back on the training paddock and look to get better."
Looking ahead to the Calcutta Cup clash at Twickenham against an England side that fell to their first defeat of the tournament in Ireland, he acknowledged the Scots must add a ruthless streak to their game.
"It is special - there's a lot of history between Scotland and England, and they're flying high at the minute.
"We just have to focus on us - sort out our discipline, try and control the game a little bit better. We're still creating opportunities but not converting our possession and pressure, so it's going to be tough, but we've got two weeks to stand up and dust ourselves off.
"We probably do need to be more brutal on the park - being brutal by being clinical, finishing teams off, being more physical. It's a hard thing to take but if you were in the changing room after the game you would have seen a lot of anger."