Six Nations 2015: Should England expect to win Grand Slams?

By Tom Fordyce
Chief sports writer
Last updated on .From the section Rugby Union563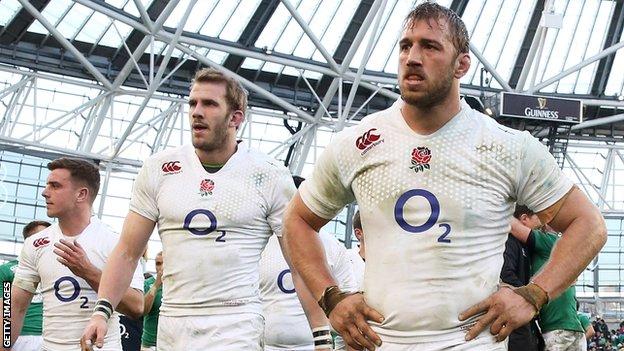 Is it over-ambitious or arrogant for England supporters to dream of Grand Slams?
For dreaming is all they can do for another long year after Ireland's comprehensive 19-9 win in Dublin, even as England's players will be experiencing nightmares about balls raining down on them from the icy heavens for weeks to come.
By the time the chance comes again it will be one Slam in 20 years for the northern hemisphere's richest rugby nation.
Money, of course, is no guarantee of sporting success, although heavyweight funding has done Britain's Olympic sports no harm.
So it comes to expectation, that traditional burden on English national sides from football to cricket. What is enough? When should it happen?
"There are very few Grand Slam teams," said a defensive Stuart Lancaster after this latest disappointment. Which isn't entirely true.
Since England won their last in 2003, there have been six in 11 years - three from Wales, two from France and one for Ireland, who now hunt another this spring. Over 84 seasons of Five and Six Nations there has been one roughly every two and a half years.
You could argue that the tournament has seldom been as competitive. In the past you might expect an ascendant Wales or Ireland - or even, for the eternally suffering, Scotland - but seldom all simultaneously.
Yet both Ireland and Wales have found success in such an environment. And when have France (five Grand Slams in the last 20 years) been as consistently emasculated and enfeebled as they are now? A fourth consecutive finish outside the top three beckons, their worst sequence since the 1920s.
Country

Six Nations Slams

Slams overall

England

1

(2003)

12

(also 1913, 1914, 1921, 1923, 1924, 1928, 1957, 1980, 1991, 1992, 1995)

France

3

(2002, 2004, 2010)

9

(also 1968, 1977, 1981, 1987, 1997, 1998)

Ireland

1

(2009)

2

(also 1948)

Italy

0
0

Scotland

0
3

(1925, 1984, 1990)

Wales

3

(2005, 2008, 2012)

11

(also 1908, 1909, 1911, 1950, 1952, 1971, 1976, 1978)
This English drought is not unprecedented. There were 23 barren years between the Slam of 1957 and the triumph of Bill Beaumont's team in 1980. Only world wars have extended the wait further.
Yet it is stretching on, through different regimes, coaches and disappointments, at odds with tradition as well as optimism. Hard though it might be to recall after these empty years, England have actually won more Grand Slams - 12 - than any other nation.
In that time, of course, England have won one World Cup and reached the final of another, a superior return to any other northern hemisphere nation.
We are not yet in the territory inhabited by the national football team, where the inverse relationship between expectation and actual achievement grows with every early tournament exit. England's cricketers are also currently mired in the sort of slump that makes Lancaster's men look like glorious overachievers, stinking out their own World Cup a winter on from an Ashes whitewash so painful that those of us who watched it are still seeking therapy.
English rugby cannot call on the same excuses. Where domestic cricket is kept alive by bailouts from the top, rugby's Premiership thrives - well supported, well funded. Roy Hodgson has a diminishing pool of English football talent to choose from, the national side playing second fiddle to the interests of the clubs that should feed it; Lancaster has a larger pool of home-grown talent to choose from than any other coach in the international game.
Despite the chastening defeat last weekend, Lancaster's team could yet win the Six Nations championship. Two home games against two losing teams represent an easier challenge than Ireland's forthcoming trip to Cardiff.
That might form the launch-pad for another profitable World Cup mission. More likely they will at best finish second for the fourth time in four seasons, a statistical stasis for all the talk of a team and culture in development.
Should they pip Ireland and Wales to the title, it will be a first championship since 2011. Enough? Expectation once again. No English supporter felt like celebrating that title four years ago. It was a Grand Slam lost rather than a trophy won.
Not all of this can be laid at Lancaster's door. If this is a story of underachievement it is one with many chapters.
This latest Sunday schooling was not a humiliation on par with the demolition at Croke Park in 2007 or the Aviva annihilation of four years ago. Better teams than England have been found wanting in Dublin over the last six months, and this was a callow unit featuring only six starters from the team that won narrowly in the corresponding fixture a year ago.
Neither was it a tight contest decided by narrow margins, as the England coach claimed bravely in the aftermath. Long before England's late surge the match had been secured, Ireland's aerial supremacy and breakdown ferocity overwhelming a team that had won four on the bounce against the men in green.
This was hardly tales of the unexpected. For all the modern alchemy of coach Joe Schmidt, it was an assault familiar from the history books: sleet in the sky, a hail of high balls; out of the traps like rodeo bulls, into the tackle with eyes on stalks.
England lost two line-outs deep in Irish territory when just 6-3 down. They also had a late try ruled out for a marginal forward pass.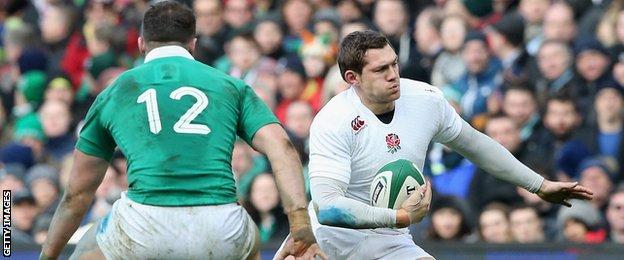 Equally it could have been worse. They started slowly, shipped 13 penalties and spilled the first three high kicks sent their way. Turnover followed turnover. Ireland had almost 70% of possession and territory in the first half.
England's most exciting moments came in exiting desperate defence: Jack Nowell's clearing run and kick in the first half, Alex Goode's weaving run from behind his own posts and Anthony Watson's similar burst from deep in his own 22 in the second period.
"I never thought I'd look up at the scoreboard to see 19-3," admitted Irish skipper Paul O'Connell afterwards.
Both captain and coach swerved all talk of Slams as the week began. Their own support will not.
Ireland have not won the title outright in successive years since 1948 and 1949. That will now feel like the minimum reward for a team that makes the very best of its individual talents and collective strengths.
Once the Six Nations is done and spring is here, thoughts will turn to the autumn's World Cup, and hopes will bloom again.
What is enough? When will it happen? Ireland have never been in better shape to make it past the quarter-finals for the first time. For England, despite the slipping away of another Slam, anything less than a semi-final place will be considered failure. Expectations, expectations.